Meet Actor, Marcelo Tubert. We met last year when his daughter Sarah was a guest on my show. This time it's his turn.  Marcelo was born in Cordoba, Argentina.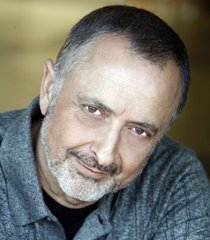 Marcelo stepped on the stage for the first time at age 3 with the encouragement of his mom, Miriam Tubert, also an actress.  At age 7 the family moved to Los Angeles. It was high school when he seriously started acting.  He can change his character and dialect with ease. It's clear by his pizzazz whether it's drama or comedy, in TV, Film or Stage, that he enjoys what he does.  You will be very familiar with the roles he has had over his four decade career.
Marcelo will share his stories about what's most important to him, starting with his family. He is the surrounded by very accomplished women in his life, including his wife Lori and daughters Emily and Sarah.
His kids call him the "The second most interesting man in the world." That is just one of the many stories we will be talking about as we talk about what's most important to him on my Born To Talk radio show. Tune in on Monday, November 6, 2017 starting at 1:00PT on LA Talk Live and Ustream.  Remember this is both audio and visual, the beauty of internet broadcasting.
What makes Marcelo, in my opinion, "The most interesting man in the world" are his diverse interests. When he isn't acting you will find him in a different role, standing in a stream. Fly fishing is a passion. If that's not enough, he loves to cook!
I told you, he is interesting. We are going to have a great conversation that will cover these topics and who knows what else?
Tell you friends to tune in! If you miss the live broadcast, you can see the archived link on my Born To Talk radio show Facebook and twitter.  Remember I was…
Born To Talk
Conversations + Connections = Community
What's Your Story?