Meet Cody Smith, author of Stage Fight.
Cody will be joining me on Monday, May 28th at 1:00PT on my Born To Talk Radio Show.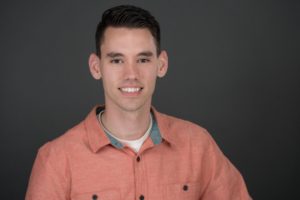 Cody and I are both part of Toastmasters International, a US headquartered nonprofit educational organization that operates clubs worldwide for the purpose of helping members improve their communication, public speaking, and leadership skills. His club is LA Air and mine is Speakers By the Sea. We met at a Toastmaster Division C Contest last month. I knew instantly he would be an excellent guest on my show!
Cody cares about helping others break free from their fear of public speaking because he used to be in their shoes. He ran away from opportunities and connections that would have benefited him in an effort to avoid ever having to speak publicly. During a trip abroad, he finally faced that fear and learned to live confidently.
Since that moment, Cody has worked tirelessly to help others like himself face their fears. In particular, he's prided himself in helping mid-level executives and entrepreneurs get comfortable with public speaking. After all, these people and others like them work hard but don't always have the confidence to show off the fruits of their labor. Public speaking gives them that confidence.
Cody distilled his public speaking strategies into a bestselling book called Stage Fight: How to Punch Your Fear of Public Speaking in the Face!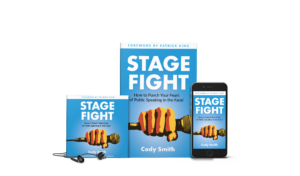 This is his mission, "To help others who are holding themselves back from fear of speaking. However, it hasn't always been that way for me. I used to be terrified to speak though petrified is a more appropriate description. My old approach to speaking was sweating bullets and fighting the urge to pass out. I say that to let you know I've been there. Allow me to share with you the lessons I've learned to take you from where you are to where you want to be."
Conquering that internal struggle is the focus this book. To get you comfortable in your own skin while speaking to an audience whether you're:
Looking to be a rock star in front of the boss at your next big presentation
Ready to knock your next pitch out of the park with a potential client
Wanting topromote your business at the regional conference
Presenting to a group of potential investors on a new venture
Simply wanting to have control over yourself whenever you speak
How will you conquer your fears?
By getting to the know the "why" behind your fears
Gaining knowledge in understanding the importance of taking small steps every day to have a lasting effect on your comfort level on stage
Building a big-O swanky pile of discipline and courage to help you every step of the way
By learning the fastest way to overcome the fears that hold you back from being the speaker who doesn't let fear have a say
In his free time, Cody enjoys writing, traveling with his family, and making YouTube videos.
I think we can all benefit from his techniques and tips. I look forward to him answering my question…
What's Your Story?
Born To Talk
Conversations + Connections = Community
&
Twitter @Born2TalkRadio
Do you have a story to share? I'd love to hear about it.