Podcast: Play in new window | Download
Thanks to Sue Melke, Celeste Gleave and Bridget Cook-Burch for joining me today on this special episode of the Born To Talk Radio Show. "I Am a Superwoman" and Sheroes United was our focus. All three of these women are Superwomen as you will hear.
What is the Superwoman Equality & Empowerment Summit all about? Why is this movement so important today? There is so much passion in supporting a movement that will inspire, empower, lead and build to help re-calibrate and re-educate a new generation. Hear why they believe in this timely movement.
This show is so inspiring, I found myself full of emotion as they shared the background and beginnings of this movement and why it's important today.
Where do you fit into this picture? Would you like to be part of this movement? They have goals that will include not just our country but to make a difference worldwide. You will hear the significance of their hashtag, #NowItsUp2Me. Reach out to these ladies to learn more about being a Superwoman and the Sheroes United organization to make an impact in your city.
The guest speakers for the Superwoman Equality & Empowerment Summit include, Endyia Kinney-Sterns, Bruce J. Einhorn, Parisa Khosravi and Teymara Wright. They each have empowering stories and are recognized leaders in changing the landscape of how we treat one another with respect, dignity and equality.
My guests today have made a generous offer to all of my listeners. Would you like to win free tickets to the Superwoman Equality and Empowerment Summit on Friday, August 24th at the Beverly Hilton?
Here's how: simply share in the comments below why you feel that this Summit would be an inspiration to you right now at this time in your life. Post by Thursday at noon. That's all.
You want to be a Superwoman and win a ticket for you AND a friend? Then post your comment below and SHARE my Blog on your social media! Facebook, Twitter, Instagram or Snapchat. And then post your social media link in the comments below.
Thanks again to Sue, Celeste and Bridget, for sharing your stories of success and commitment.
Everyone has a story. What's Your Story? It's my commitment to all of you that read my Blogs and listen to my shows, to bring interesting, inspiring and entertaining people with their stories to share each week. We are all in this together, and spreading positive energy is how we can work together in a united force for the best of our society around the world. Let's spread some joy and kindness today and support causes like I Am a Superwoman and Sheroes United.
You can subscribe to my Blog to receive an email each week telling you about the coming show. You can also listen on multiple sites to hear the show as a Podcast. Tell your friends!
Born To Talk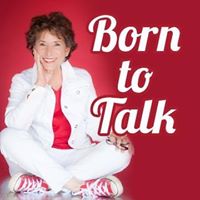 Conversations + Connections = Community
What's Your Story?
Here's how you can reach me.
marsha@borntotalkradioshow.com