Join me and my guest Author, Jack J. Hersch on the Born To Talk Radio Show Podcast on Monday, April 15th from 1-2 PT.
Father and Son.
Jack grew up hearing the stories of how his father, Dave Hersch, twice escaped the brutal death marches forced on concentration camp prisoners by the Nazis at the end of World War II. What he didn't know about his father's experience was the incredible confluence of luck, fate, and will to survive that made Dave unique in the history of the Holocaust, which is illuminated in his first non-fiction book,
DEATH MARCH ESCAPE: The Remarkable Story of a Man Who Twice Escaped From the Nazi Holocaust.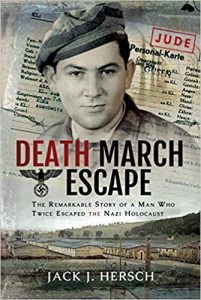 Dave Hersch.
Dave Hersch was 18 years old in June 1944 when the Nazis locked him into a railroad boxcar and shipped him from his hometown of Dej, Hungary, to Mauthausen Concentration Camp. After working 10 months in the granite mines of Mauthausen's nearby subcamp, Gusen, he weighed less than 80 pounds. He was forced to join a death march to the Gunskirchen Concentration Camp, over 30 miles away. His story about surviving one Nazi death march is amazing, surviving two is astonishing. But escaping from both is nothing short of a miracle.
Jack Hersch.
A few years after his father died in 2001, a cousin in Israel informed Jack that a mysterious photo of his father had surfaced—on the website for Mauthausen Concentration Camp. Unlike many of the brutal depictions of concentration camp survivors recorded by Allied troops, this picture was a headshot of Dave as a smiling teenager modeling contemporary clothes. Where did this photo come from, and how did Mauthausen's museum acquire it? Jack will be telling us the answer to that question.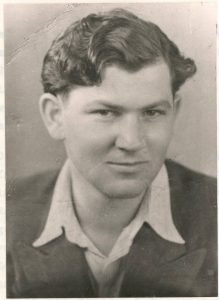 What came next?
Jack will be sharing with us why he wrote the book about his father and how his life own life has been influenced. He will take us through the stories that lead to his first novel, Death March Escape.
You won't want to miss this show about survival and the legacy of Dave Hersch.
---
What's Your Story?
Conversations + Connections = Community
Do You have a Story to share? Contact me. Marsha@borntotalkradioshow.com