Podcast: Play in new window | Download
Subscribe: RSS
Thank you Heidi Huebner for joining me on the Born To Talk Radio Show Podcast.
Heidi has been the Public Information Director at Los Angeles World Airports (LAWA) also known as LAX for over 12 years. She is responsible for the VIP and PUP programs.  Heidi brings a wealth of experience to these volunteer programs.
VIP

The Volunteer Information Professionals (VIP) program's mission is to assist passengers to ensure a friendly and positive experience at LAX. The personal touch is what passengers remember most during their travels which makes the volunteers "Very Important People" as well as Volunteer Information Professionals!
VIPs are located in information booths on the Arrivals Level of each LAX terminal. On occasion, volunteers may be assigned to roam the baggage claim area and its nearby exits.
PUP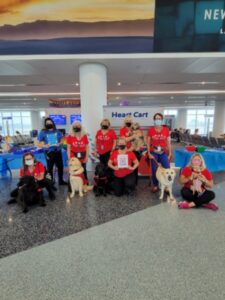 Pets Unstressing Passengers. As traveling can create stress and anxieties at airports, the LAX Pets Unstressing Passengers (PUP)  program is an opportunity to provide an overall enhanced customer experience. They provide stress relief and comfort to passengers through interaction with pets.
Therapy dogs and handlers roam the departure levels in the gate areas of each terminal. They visit passengers awaiting flights and provide comfort, as well as airport information. The program educates and informs passengers about the LAX projects and construction-related traffic impacts.
The dogs in red Pet Me vests and handlers in red shirts with the PUP logo are an excellent addition to the customer service team. Passengers love seeing warm, wet noses and wagging tails that create a friendly, "PAWSitive" experience at LAX!
Heidi's Personal Takeaways.
"Go for what you want in your life and career.  So many people just think about getting "a job."  Yes sometimes we need a job, Lord knows I had a few of those to keep me afloat, but they were just jobs, not a career.  However, all your experiences get you to where you want to go.   I have always loved animals and performing. I'm blessed to have careers in both.  When I look back at how I got here, I smile at my childhood. I was the kid who was always busy, participating in so many school activities. Including, horseback riding, dance, and acting classes. I performed in all the school shows and dance recitals, and anything else that interested me."
"My parents taught me to always be open, creative, and ask questions. To stay connected to people I meet along the way, never burn a bridge, treat everyone with respect, and send a handwritten thank you note.  I have always loved having conversations and learning about people. I listen to those I look up to. Volunteering and getting involved with animal organizations is what really helped me figure out this is what I want to do somehow, someway.   I love my volunteers.  Volunteering feeds your soul.  I look forward to many more years and new chapters in my career and coming back to talk about it on your show Marsha!"
"Remember If you love what you do it's not a job.  I have been blessed to do what I love.   Thank you."
In Closing.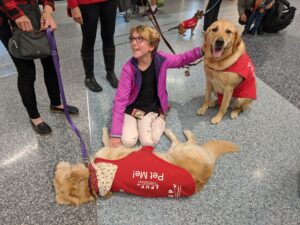 There are many volunteer opportunities. Reach out to Heidi at hhuebner@lawa.org if you'd like to know more. Our PUPs are some of LAX's best ambassadors because they're always ready to provide friendliness in whatever terminal you find them, said Heidi.
These smiles on the passenger and dog say it all!
Thank you, Heidi, for making a difference for so many! Over 90 Airports have followed your passion!
***********************
Conversations + Connections = Community
Making the world a better place.  One Story at a time.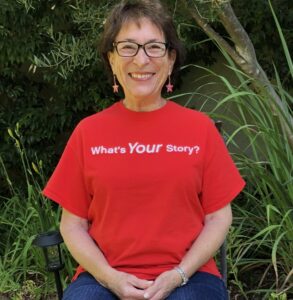 What's Your Story? I want to share it!
 Marsha@borntotalkradioshow.com
Facebook    Twitter  Instagram  LinkedIn