Podcast: Play in new window | Download
Subscribe: RSS
Thank you, Tracey Brown, for joining me on the Born To Talk Radio Show Podcast.
Tracey.
Tracey is a Veteran of the United States Coast Guard. Her journey into understanding how our mind is set was born from trauma.  Her trauma started at a very young age, from literal flames of life-threatening burns at the age of eight. Then many years later, from the trauma associated with doing four years of in the United States Coast Guard.
While working as a Scar Tissue Therapist, Tracey realized that there are great similarities between physical and emotional injuries.  As a result, left unaddressed, she discerned the similar ways they limit us.  Now, Tracey's mission is to help others understand that we have great power in our choices and we can train our minds to serve our highest good.  Tracey works with clients eager for more joy, stamina, and overall health in their personal and business life.  What is the parallel between physical and emotional injuries?
Polk Institute.
The Polk Institute's mission is to help social entrepreneurs find financial freedom and create a positive legacy for future generations. Tracey is currently a facilitator for the Polk Institute on the topic of "Mental Fitness for Entrepreneurs." She shares how Veterans can benefit by getting and maintaining mental fitness.
Rescue to Recovery.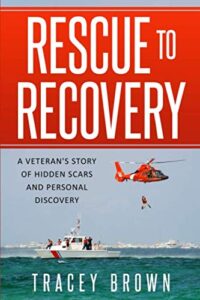 Her #1 best-selling book, Rescue to Recovery, is her story of navigating over 30 years of undiagnosed Post Traumatic Stress Disorder (PTSD). She chronicles her journey of navigating over 3o years of undiagnosed PTSD.   "This is a story for anyone that has felt the "pain" of playing small. For those that know they have more to do, more to share, and more to give."
Professional Speaker.
As a professional speaker, Tracey's signature talk is "The Disease of Playing Small." Tracey shares some tips and inspiration from that talk.
Tracey's Take Aways.
In summary, "Discovering what we want in life and what we are willing to do to get it, legally, ethically, and morally, are two keys to understanding that:
Mindset creates direction. Excellence in language creates empowerment. And, Fun/Joy creates sustainability. Applying these three concepts in our business brings about more productivity, increases morale, and makes the workplace a place where people want to go. Furthermore, applying them in our personal lives is foundational to creating a joyous and fulfilling life."
In Closing.
Lastly, "Tacey's hope is to help not only the helper, heroes, and warriors get beyond the stigma of PTSD but for all that have endured stress after trauma and hopes to help further the conversation and understanding of PTSD."
As a result of her experiences, tune in to hear her inspiring story.
Conversations + Connections = Community
Making the world a better place.  One Story at a time.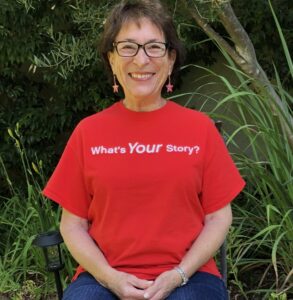 What's Your Story? I want to share it!
 Marsha@borntotalkradioshow.com
Facebook    Twitter  Instagram  LinkedIn