Damian Carroll will be my guest on the Born To Talk Radio Show Podcast on Monday, October 31st, from 1-2 PT.
Vision To Learn.
Damian is the National Director at Vision To Learn. This non-profit organization was founded by Austin and Virginia Beutner's, Family Foundation in 2012.  They provide free vision screenings, eye exams, and glasses to students in need. Since 2015, Damian has helped the organization expand from its home in Los Angeles to help kids in over 750 communities in 13 states and the District of Columbia.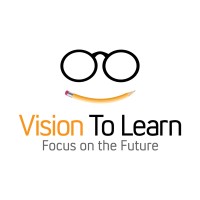 Vision To Learn serves the needs of the hardest-to-reach children; about 90% of kids served by Vision To Learn live in poverty and about 85% are kids of color. Since its founding, Vision To Learn has provided more than 1.5 million children with vision screenings, almost 387,000 with eye exams, and more than 311,000 with glasses – all free of charge to children and their families. This year another 100,000 children will receive glasses from Vision To Learn despite the challenge COVID-19 continues to present at schools.
How it works:
Vision Screenings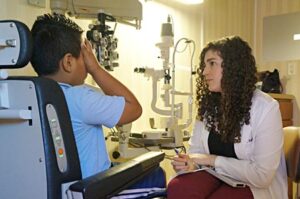 If a district has school nurses or a health department, they may conduct the screening. As needed, Vision To Learn will provide additional tools and staff to supplement screenings, so that every student, K-12, can be properly evaluated.
Eye Exams

Following the full-school vision screenings, Vision To Learn's staff will coordinate with school site staff and district administrative staff to schedule one or more visits from the VTL mobile vision clinic. VTL's clinics are converted sprinter vans, each with a self-contained optometric exam lane. The clinic can park anywhere on campus. Inside the mobile clinic, a licensed optometrist will provide eye exams for all students who failed the initial vision screening.
Frames Selection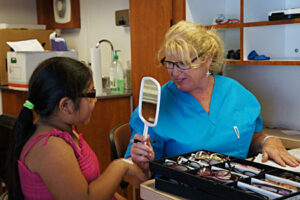 Students who are prescribed glasses will then choose their frames, with the guidance of VTL's optician. All students will have a wide selection of fashionable styles and colors to choose from in their size. Students will be escorted to and from class to the clinic in small groups and will spend, on average, twenty minutes in total out of class. Because the students pick out their own frames, it's a fun experience!
Getting New Glasses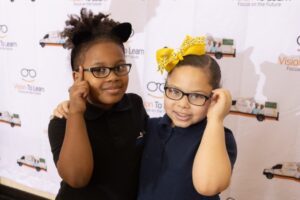 Approximately two weeks following the exam day, Vision To Learn's optician will return to the school to provide the students with their glasses. The optician will fit the glasses to each student individually, and instruct them on caring for and cleaning their lenses. If the students' glasses are lost or broken, Vision To Learn will replace them free of charge within a year.
In Closing.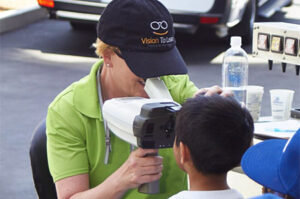 Thanks to my good friend, and fellow Rotarian, Nora MacLellan I had the great experience firsthand watching children getting their exams and then their glasses.  Their excitement was undeniable.  Please visit their website on the link,  to see if your state provides these services. And, if so, contact them to see how you can help by spreading the word in your school districts.
Thank you Damian for all you are doing to help schoolchildren across the country. 
Conversations + Connections = Community
Making the world a better place.  One Story at a time.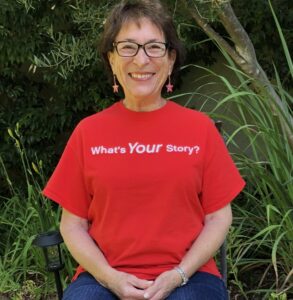 What's Your Story? I want to share it!
 Marsha@borntotalkradioshow.com
Facebook    Twitter  Instagram  LinkedIn