Tracey Brown will be my guest on the Born To Talk Radio Show Podcast on Monday, October 24th, from 1-2 PT.
Meet Tracey.
Tracey Brown is a United States Coast Guard Veteran, serving from 1983-1987. After many years of undiagnosed PTSD, Tracey was educated as a Director of Physical Rehabilitation.  She has been working for over twenty-five years to help clients get free from physical pain.   For more than a decade, she has specialized in pain reduction via scar tissue therapy. Along with helping others, her goal is to move from the "pain" of playing small to the joy of playing full out. Thus, increasing joy and growth personally and in business.
Tracey learned that physical and emotional traumas have so many similarities. This "scar tissue therapy" was where she learned how to "reorganize" her understanding of how to heal her soul to allow herself to "get out of the box." By doing so she was able to open up to new understandings and new ideas. She discovered that being a  participant in your own healing process can create more freedom and joy in life and business.  Tracey's mission is to help others understand that we have great power in our choices and we can train our minds to serve our highest good.
Tracey has 2, #1 best-selling books: Rescue to Recovery, a national #1 best-seller, and Women Who Boss Up in Health, Wellness and Life  a #1 International best-seller,
Rescue to Recovery: A Veteran's Story of Hidden Scars and Personal Discovery.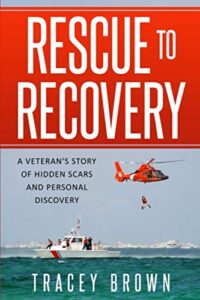 Rescue to Recovery is a Veteran's perspective of not only time served in the United States Coast Guard but more so, the years after and navigating her way to living her best life. Her book shares her personal challenges while coming to terms with, and understanding the dis-ease of playing small, mindset around challenges, and the importance of how we think. This is not just for veterans.  It is for the helpers, healers, heroes, and warriors of all walks. Those that feel the need to stay strong when everything feels like it is falling apart.
Currently, Tracey is a Facilitator for the Polk Institute on "Mental Fitness for Entrepreneurs."
In Closing.
Tracey believes there is power in our choices and words. And that we can train our minds to serve our highest good.
"When we are crystal clear on what we want, our yes's are stronger & our no's are easier."
Tune in to hear her story.
***********************
Conversations + Connections = Community
Making the world a better place.  One Story at a time.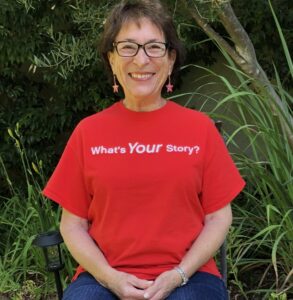 What's Your Story? I want to share it!
 Marsha@borntotalkradioshow.com
Facebook    Twitter  Instagram  LinkedIn