Podcast: Play in new window | Download
Subscribe: RSS
Thank you Allen Klein for joining me on the Born To Talk Radio Show Podcast!  He is indeed a Jollytologist®  and an Ambassador of Light.
Allen.
Allen shows audiences worldwide how to use humor and positivity to deal with life's not-so-funny stuff. He is a recipient of a Lifetime Achievement Award from the Association for Applied Therapeutic Humor as well as a Toastmaster's Communication and Leadership Award.
Here is a  bit more about Allen's background. He is a TEDx presenter on the power of intention and the author of over 30 books including The Healing Power of Humor and Embracing Life After Loss. His most recent book, The Awe Factor, shows readers how a little bit of wonder can make a big difference in their life.  How did being a scenic designer for the Captain Kangaroo show influence him?  What influenced him to become a writer?
The Awe Factor.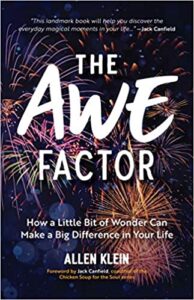 In his book, Allen shares the benefits of increased awe, including:
Connection to others
Lowered stress levels
Enhanced positive emotions
Increased compassion
Greater creativity
To Get More Awe In Your life:
Set your intention on finding one thing that awes you.  Do this at least once a week.  Be curious. Grow down, children find amazement all around them.  Start seeing your world through a beginner's mind and you will find those things too.  Look closer.  Stop, slow down, and open your eyes.  Put down the cell phone, get away from your computer and look at something that intrigues you. Then look closer. See what you've never seen before.
As you will hear, sometimes it could be a silly prop that will lift your sense of humor. Hence, a red ball on a nose!
Allen's Takeaways.
Awe is all around us, you don't have to go anywhere special to find it or reap its powerful benefits.  Consider taking a 15-minute awe-walk once a week it's all you need to be happier and healthier.  Science continues to find the many advantages of getting more of this powerful emotion in your life. So, make this year, "Your Year of Awe."
In closing.
Are you ready to make 2022 your year of AWE? 
 A Wow Experience is waiting for you! It may just take your breath away and give you goosebumps!
Remember:
"Humor can help you cope with the unbearable so that you can stay on the bright side of things until the bright side actually comes along."
Conversations + Connections = Community
Making the world a better place.  One Story at a time.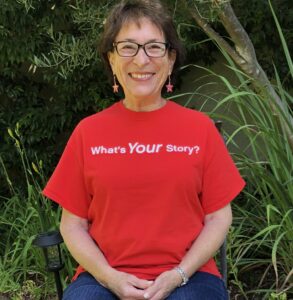 What's Your Story? I want to share it! 
Marsha@borntotalkradioshow.com
Facebook    Twitter  Instagram  LinkedIn