Podcast: Play in new window | Download
Subscribe: RSS
Joining me on the Born To Talk Radio Show Podcast on January 24th, 1-2 PT is Allen Klein.
Let's Meet Allen.
Ever heard of a Jollytologist®? Well meet the world's one and only—Allen Klein, who shows people worldwide how to find and use humor to deal with not-so-funny stuff.  He is an Ambassador of Light.  His mission is to help people lighten up and get more happiness and joy in their life. Allen got into this unusual line of work after his wife died of rare liver disease at the age of 34. He saw how humor helped her, and those around her, cope.
Allen is a recipient of a Lifetime Achievement Award from The Association for Applied and Therapeutic Humor. He also received the Toastmasters Communication and Leadership Award and a Certified Speaking Professional designation from the National Speakers Association. In addition, Allen is an inductee in the City University of New York's Hunter College Hall of Fame.
Allen is also a TEDx presenter on the power of intention and the author of over 30 books including The Healing Power of Humor and Embracing Life After Loss. His most recent book, The Awe Factor, tells readers how a little bit of wonder can make a big difference in their life.
The Awe Factor.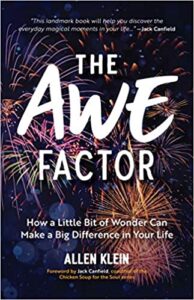 "How a Little Bit of Wonder Can Make a Big Difference in Your Life." In his book, Allen explores human emotions to help us find and define awe to escape the everyday ruts of life.  He reflects on feelings of awe, meaning, and purpose. He provides awe-wakening tools, tips, and techniques.  As a result, he helps us increase and become more aware of the awe and wonder in our lives.
How can we find and use humor to deal with changes, challenges, and not-so-funny stressful stuff?   This can apply to humor for workplace wellness.  As well as motivational humor presentations for healthcare, hospice and other professionals.

In Closing.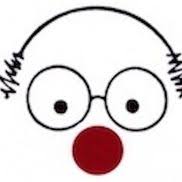 On this podcast, Allen will discuss what a recent headline in the Washington Post said, that "Awe might be our most undervalued emotion…."  He will share amazing awe-related stories, why awe is important, and how to get more of it in your life. In other words, how to make 2022 your year of awe.
Are you ready to have a year of AWE? Tune in to hear how!
                                                                   * * * * * * * * * * * * * * * * * * * * * * * * * * * * * * * * * * * * * * * * * * * * * *
Conversations + Connections = Community
Making the world a better place.  One Story at a time.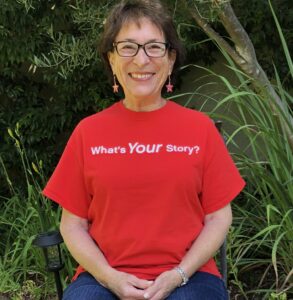 What's Your Story?  I want to share it.
Marsha@borntotalkradioshow.com
Facebook    Twitter  Instagram  LinkedIn