Podcast: Play in new window | Download
Subscribe: RSS
Here is a recap of today's Born To Talk Radio Show Podcast with my guest Diane Kane.
Diane Kane.
Diane lives with her husband in Phillipston, Massachusetts.  This small town in Worcester County has a population of 1,700 residents.
In her early days, Diane wore many hats. First, she started cleaning the dining rooms at a 4-star restaurant. She turned that opportunity into being the assistant to the head chef! Destiny. She said, "I like challenges. I don't always succeed, but it not because I didn't try."
Author & Writer.
Diane's love of writing started at a very young age.  In high school, her English and Creative Writing Teacher, Mrs. Roger, encouraged her to follow her writing dream. Her support has stayed with her for over 50years.  She mentioned that she has a vast imagination and has always loved to read.   Her subjects are about everyday life and character-driven. As you might imagine, being the mail carrier provided her opportunities to meet many people, all of whom had their own stories.  Diane shared that her imagination doesn't stop. There is always a story going on in her head.
When Diane's kids were 10 and 12 she knew she wanted to be home nights to help them with their homework.   Here comes the"pivot!"   The mail lady went by, and she asked if they were hiring. That was the beginning of her 25-year career as a rural mail carrier. For those of us that don't have an appreciation of what that means, she drove from mailbox to mailbox to deliver in remote areas. Sometimes she was the only person her customers saw each day. Diane considered conversation part of her job.  Many of her fiction stories are based on her real-life mail customers and mail adventures.
Turning Point.
In her late 50's Diane fell and was out of work for 6 months for shoulder surgery. It turned out to be the best "trip" she ever took. This is when she was invited into a group of published authors. They took her under their wings, and they were determined to see her work published.  Her first short story, The God of Honey, was published in Goose River Anthology. Anthologies are books that are collections of stories and or poetry by many different authors.  Diane's advice, "this is a great way to get your writing published." 
Quabbin Quills.
After being published in Goose River Anthology, Diane was invited to be one of the authors at Meet the Local Authors night at the local library. Enter Steve Piscitello, from Quabbin Quills. Steve had a dream to start a nonprofit writers group to publish anthologies of stories of local authors.   He wanted to use any money made from sales to offer scholarships to local high school seniors furthering their education in writing. He always wanted to offer free writing workshops.  Diane is part of 4 volunteers who volunteer their time and talents to help him fulfill his dream. And four years later, Quabbin Quills has published 3 anthologies that include seasoned authors and first-time writers. They have facilitated several free workshops. A  Quabbin Quills is still going strong with another book due out at the end of this year.
Diane's Books: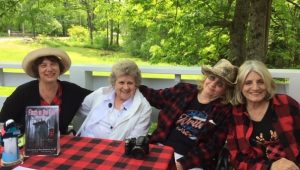 Diane tells us about her author friend Kathy.  Kathy has had many short stories published in numerous magazines and anthologies. She wanted to put all her stories together in a book and call it Flash in the Can.  Flash fiction is stories under 1,500 words. They are fast and end with a punch. They are commonly known as bathroom readers.  Think of the Reader's Digest sitting on the back of the toilet, thus the Can.  This is when Diane, Kathy, Phyllis, and Sharon jumped on board. Flash in the Can One was released in 2018 and Flash in the can Two in 2020.  That was no easy feat during this past year's pandemic.
Don Gateau  The Three-Legged Cat of Seborga.  This is another excellent story of how a reconnection on Facebook, after not being in touch for 40 years, brought her together with her friend and illustrator, Linda McCluskey all the way from Italy! All of Diane's books are available online.
Here he is! Don Gateau, the star of the book!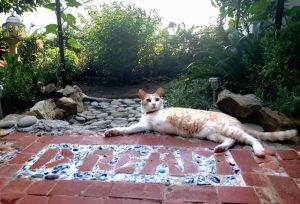 What's next for Diane?
Her next book is Brayden the Brave.  Due out in stores and children's hospitals across the country about a baby boy born with medical issues that required surgeries.
Lastly, calling all authors, tune in to hear Diane's sage advice about self-publishing!
As she said:
Do it for love, not money. Then you will always be a success.
---
Conversations + Connections = Community
Making the world a better place.  One Story at a time.

What's Your Story?  I want to share it.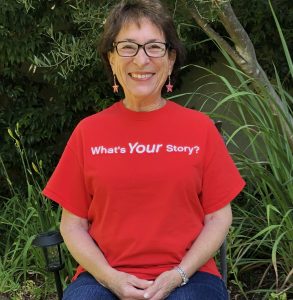 Marsha@borntotalkradioshow.com
Facebook    Twitter  Instagram  LinkedIn