Podcast: Play in new window | Download
Subscribe: RSS
The Flight Path Museum LAX is a gem in the Los Angeles, Community.  My guests included Board Officers Agnes Huff, President, and Robert Acherman,  Recording Secretary along with, Lynne Adelman, a member of the Board of Directors serving as the Directory of Community and Industry Relations.  All three of my guests are aviation enthusiasts. Both Agnes and Lynne were "stewardesses" and loved to travel.  Robert is an aviation history buff long before LAX became one of the busiest airports in the world.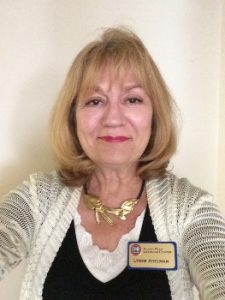 The Flight Path Museum LAX Mission:
Flight Path was founded in 1995 as a nonprofit, community-based organization to
1) honor aviation pioneers
2) preserve the heritage and history of aviation and aerospace
3) encourage youth to pursue education and careers in these fields.
Celebrating 25 years of glamour, adventure & excitement of aviation and aerospace.
The Flight Path developed a series of sidewalk plaques in the LAX business district saluting aviation pioneers, organizations, and locations. This "Flight Path" is the aviation equivalent of the famed Hollywood Walk of Fame and currently has 54 honorees, a who's who of aviation and aerospace.
Agnes.
Agnes shares one of the latest visitor enhancements at the Museum, including taking a Virtual Tour of Flight Path Museum.  The Museum partnered with Los Angeles World Airports (LAWA) and Discover Los Angeles for a special virtual tour of the Flight Path Museum.  More than 250 people from around the world attended through Google Earth. Board members served as docents. Agnes also mentioned, joining the current Douglas DC-3 aircraft on the tarmac is an authentic Douglas DC-7 aircraft passenger boarding stairs. The two create a terrific opportunity for a selfie or photograph with LAX as a backdrop; only Flight Path can offer this on-the-tarmac experience at a major U.S. airport.
Robert.
Robert shares the history of the building known as the Imperial Terminal at LAX. Also, how did the Flight Path Learning Center, later become the Flight Path Museum? He is very proud of the great Scholarship Programs available to undergraduate students living in California. One such scholarship is named in honor of his dad, Anton Acherman.  You will hear about the large collection of books and magazines in the William A. Schoeneberger Library. Speaking of books, he has a book in the works!
Lynne.
Lynne began volunteering when the museum opened. She shares her experiences and the Museum's vast exhibits. Including uniforms that both she and Agnes wore. Lynne mentioned the top fashion designers that had the responsibilities of designing uniforms particularly in the mid 60's early 70's, known as the Golden Age of Flying. There are over 70 airline uniforms represented. Also, there is a DC-3 Plane Exhibit, Space Exploration Exhibit, Flying Tigers Exhibit, and a Fire Fighting Vehicle Exhibit.
One of the Programs.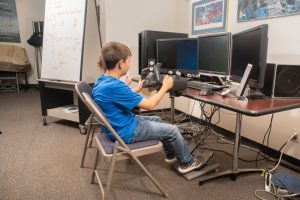 Once the Museum opens, you can Learn to Fly with Flight Path Flyers program courses designed as an introduction to the wonderful world of flight. It is a simulator-based training program for those 12 years old and over, taught by professional pilots. Students learn on computer-based flight simulators about aerodynamics, air and ground operations, and flying skills. They offer both beginner and advanced courses. The three-hour sessions are on consecutive Saturday mornings. The cost is just $50 per course!
Updates.
During this pandemic, the museum is closed, but to the extent possible, they are continuing to do what they can remotely to fundraise during the closure.
The board is working on adjusting to the new reality once they reopen.  With the help of some board members, they are making handmade cloth facemasks from exclusive vintage LAX fabric. They are branded with LAX and the Theme building on one side, reversible, washable, and a must-have for enthusiasts and others. 100% of the proceeds benefit the museum's educational and scholarship programs!  They will be restocking on eBay next month, but you can order direct now for $12.50! Get yours today at Email: facemask@flightpathlax.com. They will contact you with payment and delivery instructions
Save this..once they are ready to open…
here's a flyer for you!  Please make note of their new website    www.flightpathlax.com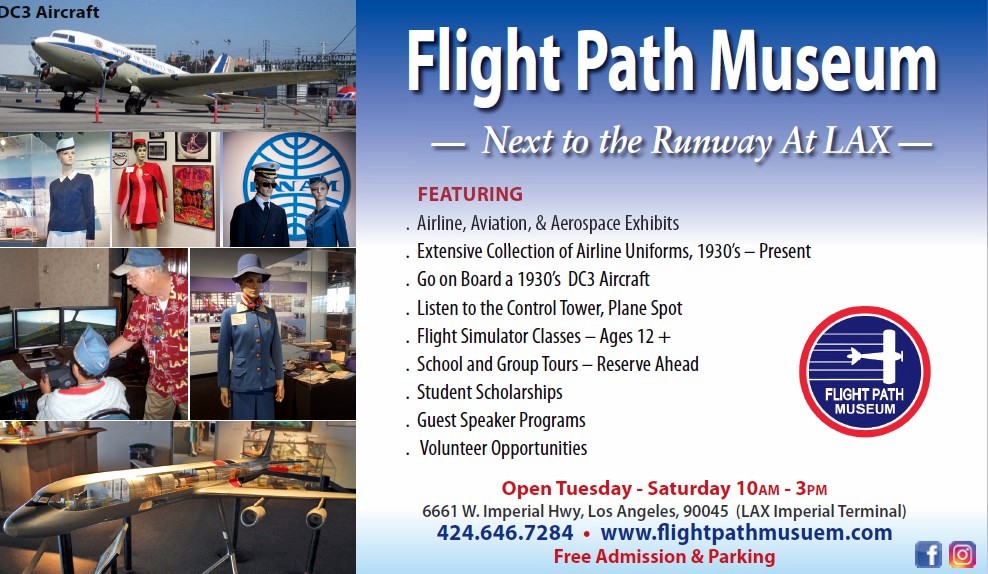 This show is filled with stories. I hope you will put the Flight Path Museum on your to-do list!
---
What's Your  Story? Conversations + Connections = Community