Join me on my Born To Talk Radio Show Podcast on April 13th from 1-2 PT for my 5th Anniversary Show.   The first 3 years I was in the LA Talk Live Studio and these past 2 years, I've been podcasting from home, every Monday.   This will be my 245th show, representing 323 special, unique individuals, not including those that have joined me more than once.
What do they all have in common?
Passion!  Passion for sharing their stories about themselves and what they do to add value to our society. From the Non-Profits, Authors, Entertainers, and the variety of people who have crossed my path, my life has been enriched and I am eternally grateful for these years and experiences. A special thanks to my friend Deb Blaine that set me on this path, this would not have happened without her belief that I could do this!
Let's meet my guests.
Mary Hewitt is the Executive Director for the Los Angeles County Alliance for Boys & Girls Clubs.  The Alliance is an umbrella organization that was created in 1998 to bring resources, marketing and fundraising to all Boys & Girls Clubs in Los Angeles County which serve over 140,000 youth ages 6 to 18.  For the past 7 years, she has spearheaded innovative programs, special events, and services to under-resourced communities in Los Angeles.  Mary has led the Alliance on college and career programs through the annual Teen Summit.  In 2019, she developed an Alliance Kollab workforce development program to get the Boys & Girls Clubs youth meaningful employment through a comprehensive public/private investment partnership program.
Denzell O. Perry.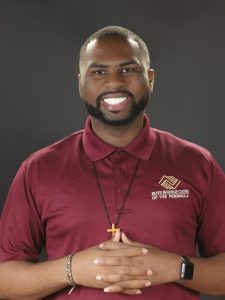 Denzell O. Perry is a person who has "walked a mile" in the shoes of Compton's youth. He successfully navigated gang-infested neighborhoods, sat in classrooms uncertain of his future and was told he had a learning disability. His story mirrors many of today's youth. However, despite Denzell's hardships, he graduated from high school with honors. Denzell became a National Youth of the Year Finalist for Boys & Girls Club of America. He became a first-generation college graduate and a leader at one of the world's largest retail companies. At the same time, he has mentored countless teens. As a result, Denzell is an outstanding example for students born and raised in communities like Compton that their beginning is not their end.
Los Angeles County Alliance for Boys and Girls Clubs.
Mission: The Los Angeles County Alliance for Boys & Girls Clubs exists to support the individual Boys & Girls Clubs located in Los Angeles County in their efforts to enable all young people, especially those who need us most, to reach their full potential as productive, caring responsible citizens.
There is no better time to foster hope, transform lives, and secure the future of the thousands of children and youth that the Los Angeles County Alliance for Boys & Girls serves each year.
Tune in to hear this inspiring show.
---
What's Your Story? Conversations + Connections = Community