Podcast: Play in new window | Download
Subscribe: RSS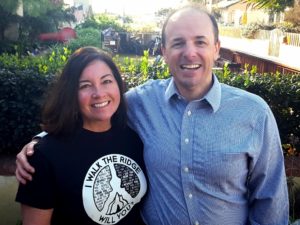 Walk the Ridge is a growing civility movement that promotes the daily practice of listening and respect within our differences. We will explore everything about this movement from how it originated to how Nellie and Steve are spreading the message of civility to the masses. This hour will REALLY be all about in-civility, with eye-opening statistics, who it affects, why it's critical we reverse our tribalistic nature, tips and strategies to lead a more civil existence and more!
Their mission is all about individuals making small, daily changes to the way they think of, and interact with all types of people – in actual and online conversation. Over time, these small changes will empower personal, family, work, and community relationships – and bring back more kindness in our society.
Walk The Ridge is NOT about pushing people into changing their beliefs or opinions, it's about individuals understanding, and practicing civility to others with different viewpoints.
Look closely at their Logo, do you see the face?
I Hear You. I See You. I Respect You.
They sell wrist bands that serve as a daily reminder. Check out their website to learn more.By the end of the show you will feel inspired to live your life with respect for others and grow your Circle of Civility to help realize a kinder more gentle nation.
Don't forget to subscribe to my Born To Talk Radio Show Blog by simply clicking on the subscribe tab on this page.
And if that isn't enough…
You can also follow me on my Facebook page Born To Talk Radio Show and my twitter page @Born2Talk
Conversations + Connections = Community
What's Your Story?
Drop me a note if you'd like to be part of the fun!