Podcast: Play in new window | Download
Subscribe: RSS
Thank you, Dr. Erica Miller, for joining me today on the Born To Talk Radio Show Podcast.
Erica's Story.
Erica is a Holocaust Survivor.  She tells us about what it was like being 7 years old until the age of 11 living in a Nazi holding camp. Even as young as she was, she found a way to comfort herself by singing softly to herself to remain calm and to detach from the gruesome sights she witnessed.  She did not want to live in fear then and she continues to this date to be fearless! She is proud to be 87, in fact, she relishes it. Life takes courage and whether she was in the camp, or even after she left with her family and emigrated to Israel in 1949, she remained courageous. She joined the Israeli Air Force for two years.  Why?  Because giving back is important Erica.  She is a healer and a citizen of the world.
Her Books.
Erica lives by motos that describe her strengths.  Stress shortens life. Take an adventure outside your comfort zone. Take a stand in what you believe in.  She is resilient and she makes no apologies.  You can hear her say when a challenge presents itself…"Watch Me!" That could explain why she climbed Mt. Everest, climbed Machu Pichu, and why she grabbed a parachute and jumped out of an airplane with her granddaughter!  Any surprise that up next for her when we can safely travel is climbing Mt. Kilimanjaro?
Takeaways.
"Don't surrender to the notion that you can't do something, it's never too late.  Envision something that you want. Age is just a number.  When we give, we get. Kindness always wins. Live life with a purpose and passion. Engage in life. Be part of a community. And, don't live in the what-ifs."
Erica gives hope. It's my hope that you are inspired by her story.
---
Conversations + Connections = Community
Making the world a better place.  One Story at a time.

What's Your Story?  I want to share it.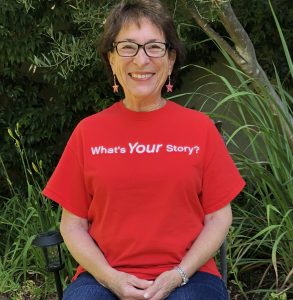 Marsha@borntotalkradioshow.com