Podcast: Play in new window | Download
Subscribe: RSS
Thank you, Eileen Doyon, for joining me on my Born To Talk Radio Show Podcast. Eileen is the author of a series of  8 books, Unforgettable Faces & Stories. Most recently she has written her first children's book, Lucky…Little Guy BIG Mission.
Author.
Eileen shares her inspiration for writing her books, starting with the story about her dad after his passing in 2011.  She said that following her path, following her calling, and following her purpose was important.  Just the titles alone, are an example of what's important to Eileen and the people that contributed to her series! Check out this link. All of her books can be purchased on her website. 
"Dedications: Dads & Daughters." "Keepsakes: Treasures from the Heart."   "Best Friends: Forever and Ever."  "Pet Tales  Unconditional Love."  "Letters to Heaven."  The Second My Life Changed Forever."  " Start Over:  Stories of New Beginnings." Her last book in the series is "Patriots of Courage."
Now introducing her latest book: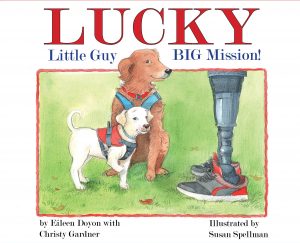 Christy Gardner contributed to, "Pet Tales. Conditional Love." It was through that collaboration, that Eileen knew, a book about Lucky was the perfect reason to write a children's book.  Wait until you hear the true story about how Christy, an Army Veteran with two prosthetic legs, and her service dog Moxie took Lucky in and changed their lives.  Eileen says this is the perfect book for someone from 2 to 92!  I believe it!
Meet Lucky, the inspiration for their book!!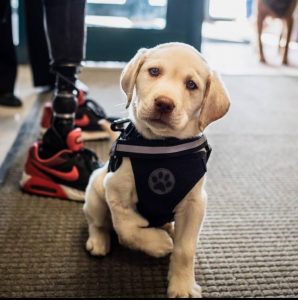 Tips for writing a book.
First and foremost, as simple as this may sound, Eileen said "Just do it. You won't know all the answers but push forward. If you don't, you don't want it bad enough."  Whether you get your inspiration to write at 11:00 PM or 11:00 AM, if you have something to say, start writing, and before you know it, you've got your thoughts on paper. Then seek help from professionals.
I can't think of a better time to incorporate my 3 C's.  This truly speaks to what my podcasts are about each week.
Conversations + Connections = Community
---
Making the world a better place.  One Story at a time.

What's Your Story?  I want to tell it.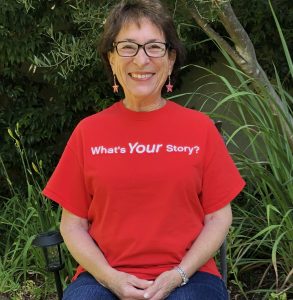 Marsha@borntotalkradioshow.com
Facebook    Twitter  Instagram  LinkedIn