Podcast: Play in new window | Download
Subscribe: RSS
Thank you Erika Hartman for joining me on the Born To Talk Radio Show Podcast.
Erika.
Erika is a licensed marriage and family therapist.  She received her Master's degree from the University of Southern California, and undergraduate degrees from the University of California and  Santa Barbara.  Erika joined Safe Place for Youth in 2021 as the Executive Director, after 15 years in the non-profit sector supporting people experiencing homelessness and underserved youth. She was formerly the Chief Program Officer of the Downtown Women's Center.  The DWC is a  nationally recognized homeless services organization, located in the heart of Skid Row. During her tenure at DWC, Erika led the unprecedented growth of programs, dramatically increasing the impact, budget size, number of staff and women served.
Safe Place for Youth.  S.P.Y.
Safe Place for Youth prioritizes low barriers for entry, harm-reduction, a trauma-informed approach. While at the same time providing provision of a safe, supportive environment. They do this through a continuum of care that includes street outreach, access center services, case management, health & wellness, and education & employment programs.
Their Mission:  To empower young people experiencing homelessness to thrive by providing lasting, community-driven solutions that address racial and social inequity.
SPY provides a caring connection and access to critical resources for young people ages 12-25, experiencing or at-risk of homelessness.
Last year nearly 1,000 individuals received support through SPY's continuum of care which provides a holistic approach to address the unique needs of homeless transitional-aged youth.
During the Covid-19 pandemic, SPY continues to work on the front line with some of our society's most vulnerable population. SPY is continuing to run its residential programs 24/7 and operate its access center to provide basic survival needs and resources to street-based youth.
The Problem.
Young people find themselves homeless or at-risk of homelessness through no fault of their own. They are among the marginalized and under-served youth in our community. The youth that they serve at Safe Place for Youth are diverse, yet they share many common pathways into homelessness. When asked how they became homeless, 75% had experienced family-based instability, violence, and conflict. Additionally, 36% reported previous involvement in the foster care system.
Youth experiencing homelessness deal with a complex set of issues related to disconnection from family and community, abuse and neglect, significant past trauma, grief and loss, mental illness, and criminalization. This typically translates into few prospects for education, employment, or social participation and can manifest into psychological distress and trauma.
As one of the fastest-growing homeless populations, transitional-aged youth require unique housing and support services that are responsive to their developmental needs as young adults. They learn to care for themselves, gain life experience, and transition to adulthood.  Subsequently, once a problem has been established, solutions will follow to meet those needs.

Their Solutions.
Street Outreach. Five times a week, SPY's outreach team connects with youth who are experiencing homelessness on the Westside of Los Angeles. They build meaningful relationships and trust while providing street-based engagement and survival resources. Outreach staff and trained volunteers provide snacks, hygiene packs, and socks.  Including linkages to emergency shelter, mental health, and medical care. As well as other on-site services at SPY's Access Center.
Here are some useful links to learn more. Education and Employment.  Healing Arts Program. Volunteer Opportunities. Donate.
Erika's Takeaways.
"Youth homelessness is preventable, solvable, and there is a role for everyone to play in addressing it. Safe Place for Youth is the leading service provider for youth experiencing homelessness in Los Angeles.  We offer wraparound services to meet the unique needs of youth between the ages of 12-25.
The success of our work relies heavily on community involvement. We have several volunteer programs and events year-round that serve as a great way to learn, network, and most importantly, provide critical resources to youth experiencing homelessness. Each year we provide 1,000 youth with life-affirming and life-saving support. The work surrounding youth homelessness takes a village."
In Closing.
Thank you Erika for sharing the amazing work Safe Place For Youth is providing countless resources for our unhoused youth.
It is truly a remarkable story.
Conversations + Connections = Community
Making the world a better place.  One Story at a time.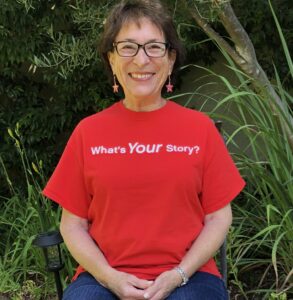 What's Your Story? I want to share it!
 Marsha@borntotalkradioshow.com