Podcast: Play in new window | Download
Thanks to Eva Meyers, Oncology Cancer Detection Nurse Practitioner at Adventist Health White Memorial for joining me today, on the Born To Talk Radio Show Podcast.
 Our Focus.


Eva shares what she does to support patient care for women that may have been identified with breast cancer. Not every woman she meets has cancer, but screening is paramount in determining that.  Cancer detection and treatments have changed significantly.
Their major supporters.
There have been generous supporters of Adventist Health White Memorial. One is the Susan G. Komen LA County.
Their grants have provided patient and family support in Spanish. There was a time when breast cancer screening was only available for women over the age of 40. Now they able to screen women over the age of 30. Those ten years can be life-saving.
The other major supporter is former boxer, Oscar De La Hoya.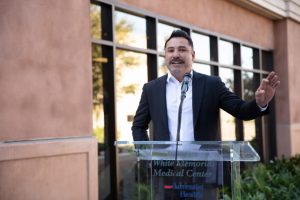 When Oscar's mother, Cecilia Gonzalez De La Hoya walked into Adventist Health White Memorial many years ago suffering from advanced breast cancer.  She typified many women in her East Los Angeles community who are uninformed about the disease and seek treatment too late.
She died two years later at the age of 39, leaving three children and her husband to mourn a life cut down in its bloom.  One of those children became a boxing sensation, Oscar De La Hoya.  His charitable foundation contributed to the cancer center which was named in her honor, Cecilia Gonzalez De La Hoya.
Oscar's gift will help expand outreach, education and screen programs at the new facility.  It features some of the most sophisticated diagnostic equipment in Southern California. There is also a breast cancer support group conducted in Spanish. And also, a community resource center containing books, videos, and educational materials.
Takeaways and Tips!
What is genetic testing? Who should be tested and why? Breast Cancer Awareness, means just that, Awareness. Pay attention to your body. Have there been any changes?  What's normal versus non-normal? Do you have any family history?  Furthermore, advocate for yourself. Stay connected to your physician.
Finally, Eva has graciously provided us with a phone number to call if you have any questions.  Mention that you heard her on the show.  Call: 323-370-8523 ask for Maria.
Above all…Don't let fear lead the way. Breast cancer caught early is curable.
---
What's Your Story? Conversations + Connections = Community
Do you have a story to share?  You can contact me directly at
Marsha @BornToTalkRadioShow.com