Podcast: Play in new window | Download
Subscribe: RSS
Today's featured guest on the Born To Talk Radio Show Podcast, is Gary L. Polk, Sr.
Gary.
Gary is the CEO/President of the non-profit Polk Institute Foundation.  Their mission is to help social entrepreneurs find financial freedom and create a positive legacy for future generations.  Gary is also an Adjunct Professor at California State UniversityDominguez Hill in Carson. As an avid reader for as long as he can remember, writing his first book came naturally to him.  He contacted a textbook publisher and knew his subject well. As a result, he published his first book in 2019, Why Entrepreneurs Fail to (Win).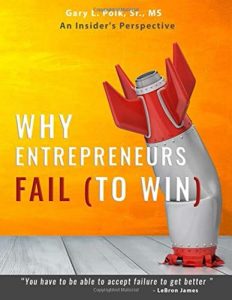 In this book, Gary teaches empowerment with recommendations on how to win. But, he is clear, failure is part of doing business. He added, don't let that stop you! Making a profit, not getting a paycheck, provides financial freedom that is under your control. From starting a business, understanding access to capital, management, marketing, and numbers are all included. He also mentioned Certified B Corp. They are a new kind of business that balances purpose and profit.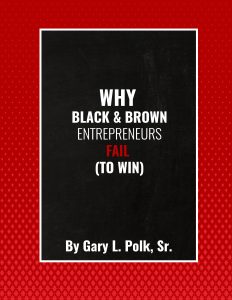 In his latest book, Gary talks about Why Black and Brown Entrepreneurs Fail (To Win).  Currently, 75% of his students are black and brown. This is not written as a textbook, rather it is a book within a book, as a guide to help students navigate the world of entrepreneurship. Here are the chapters that you may find very thought-provoking, they include the following:
54 Shades of failure, based on research findings.  2. Cultural differences amongst entrepreneurs.  3. Social Entreprenships, including his 3 P's. People, Planet, Process.  4. Is self-doubt holding you back? Within your community, within your family? 5. Ethical leadership matters.  6. Entrepreneurs are a team sport.  7. Market research. 8. The power of networking.  9. Access to capital. This includes a variety of crowdfunding. And lastly,  10. Resources and tools.
The Polk Institute Foundation.
This is a tuition-free education at the Polk Academy. Because of Covid-19, classes are held on Zoom. They just launched their first founding members last month.  The cohorts represent 17 women and 9 men of all ethnicities and ages.  And because it's on zoom, they can live anywhere. Pi is an innovative enterprise offering a Master Level Academy, once a month for 40 weeks. This is followed by a 6th-month Mentorship/Training Accelerator, and then a Capital Funding program with a focus on graduating Black and Brown fundable CEOs.
Lastly.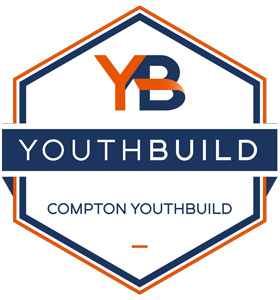 Gary not only inspires his students but he gives back as well.  He serves on the board of directors of Compton YouthBuild. 
Their Approach: "We provide educational and occupational opportunities for opportunity youth from economically distressed areas who are invested in creating a sustainable future for themselves, their families, and communities." 50% of the proceeds of his book will be donated to this group.
Gary has had the privilege of teaching amazing motivated students. He mentioned Chiraz Kelly who left her homeland of Tunisia for the US more than 15 years ago, with some personal belongings and $800.  Today, she is the founder and president of STAFFACTORY, which provides staffing solutions for businesses. Prior to STAFFACTORY, Kelly was the chief executive officer of City National Security Services, which she established in 2001 while a student at CSUDH.
Needless to say, Gary has had an amazing impact on his students. And I would be remiss in not mentioning his basketball coaching experience from middle school young girls through college, something he truly has enjoyed as well. Someday we may just see him back on the court!
Just in case you're wondering…yes there is another book coming this fall…Why Women Entrepreneurs Fail (To Win)
I know you will find his stories as interesting and encouraging as I did.
---
Conversations + Connections = Community
Making the world a better place.  One Story at a time.

What's Your Story?  I want to share it.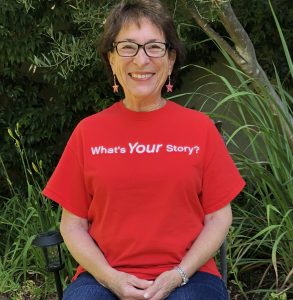 Marsha@borntotalkradioshow.com