On Monday, March 30th from 1-2 PT my guest on the Born to Talk Radio Show podcast will be Dr. Jeanna Kindle, Chief Product Acquisitions Officer at the Los Angeles Regional Food Bank.
Let's get to know Dr. Jeanna Kindle.
Currently, Jeanna is the Chief Product Acquisitions Officer of the Los Angeles Food Bank. Jeanna wants to live in a world where no one goes hungry.  In 2006, she became one of a few to earn the Feeding America certification of CFR (Certified in Food Resources).  When she's not working at the Food Bank you can find her volunteering at the Drug & Crime Free Youth Foundation (DCYF) where she works closely with the board of directors.
Jeanna has also been a member of Toastmasters International for over 10 years and serves as the Vice President of Education at Dynamic 90's Toastmasters.  She has earned the highest designation bestowed upon members, that of Distinguished Toastmaster (DTM).  She has earned that designation two times.
Recently, Jeanna accepted an offer to join a SpeakerMatch program based in Texas.  In that capacity, she will travel across the country to speak to various groups specializing in motivational and inspirational topics.
Los Angeles Regional Food Bank.
Since 1973, the Los Angeles Regional Food Bank has worked to mobilize resources in the community to alleviate hunger. We will be talking about how the LA Regional Food Bank is making a difference in the community they serve. During these very difficult times, their services are more important than ever.
HUNGER HAS MANY FACES
"Community support enables the Food Bank to serve more than 300,000 people every month. Approximately one-quarter of our food goes to children, and roughly one-fifth ends up in the hands of older adults. It is estimated that only 10% of our food goes to the homeless, but this is an important population for us. The majority of our food goes to low-income families and individuals who sometimes struggle to make ends meet in this expensive location that we all call home."
1 in 4 children might not know where their next meal is coming from.
1 in 5 adults in LA County struggles with food insecurities.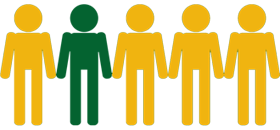 As you might imagine, given the circumstances today, feeding the hungry has taken on an even greater focus at the Food Bank. Jeanna will be telling us about the programs and services they are offering to support children and seniors. While, our focus is the local Food Bank in Los Angeles, County, there are Food Banks located across the country. Click on this link to find a local Food Bank where you live. All food banks are looking, volunteers to support their efforts of Feeding America.
Tune in to this informative show!
---
What's Your Story? Conversations + Connections = Community