Joining me on Monday, March 22nd, from 1-2 PT on the Born To Talk Radio Show Podcast, is my guest Deborah Gaal.
Let's meet Deborah. 
Deborah is also known as Deb or Debbie by her friends. She grew up in St. Louis and attended Washington University, in St. Louis, where she received a degree in Theatre and English Literature. Deborah abandoned her love of theater to take over the family flooring business and ended up running a wholly-owned subsidiary for E.I. DuPont de Nemours  (DuPont).  After leaving DuPont, she coached entrepreneurs and corporate execs in addition to creating and guiding leadership seminars for women.  Debbie has raised four children and lives in Southern California with her husband, an exuberant Chocolate Lab, and two feral cats. When she is not writing, you can find her on the lawn bowling green.
Author.
After leaving the business world Debbie returned to her dream of living a creative life by writing. She is a repeat recipient of the San Diego State University Writer's Conference "Editor's Choice Award." Her debut novel, The Dream Stitcher, was a finalist in the 2018 National Jewish Book Awards in Debut Fiction. She also won the IndieReader Discovery Award for Literary Fiction.
Why does she love to write?
Debbie's stories are steeped in her family legacy, spurred on by her desire to answer these questions:  Who am I? Where do I come from? Where am I going?  Her family's stories are simply jumping-off points.  It's her way to take what she knows and refashion them into metaphors that might inform the reader's own life.
The Dream Stitcher was inspired by her mother's journey to needlepoint an 84 sq. ft. replica of excerpts of The Bayeux Tapestry.  And Synchronicities on the Avenue of the Saints pays tribute to a woman who saved her father's life during a 1918 pogrom, in Russia, even though she doesn't know her name.
In both cases, she has created much larger stories than those events, but her own history is lurking in the background.
Debbie pays attention to history, but she also plays with it, recasting her darkest hours with a bit of light.
I have found that authors not only write well, but they are also excellent storytellers.
I'm looking forward to sharing Debbie's stories with you.
---
Conversations + Connections = Community
Making the world a better place.  One Story at a time.

What's Your Story?  I want to share it.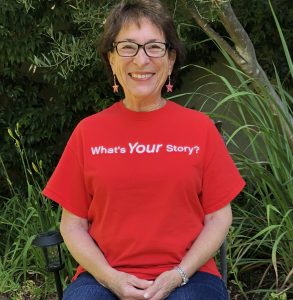 Marsha@borntotalkradioshow.com