Podcast: Play in new window | Download
Subscribe: RSS
Today's guest on the Born To Talk Radio Show Podcast was Jerome Gaw.
Jerome Gaw.
After graduating from college from the University of Santa Barabara and then Cal State LA, Jerome's path took him into Social Work.  As a Licensed Clinical Social Worker, he works within the County Foster Care Program with youth 16-21. Jerome takes us on his nature and photography journey. How does he combine his love of nature and connecting with the youth?
For the Love of Birds.
It wasn't until Jerome took a trip to Vancouver, Alaska with his family in his early 30's, that he became interested in birds. After that, he will share with us how conservation education has become part of his life.  You'll notice the photo of Jerome at the top of the page. This was taken at the Long Beach Aquarium of the Pacific. He has been volunteering there for the past 5 years. Those are Lorikeets, a type of parrot from Australia. This is a great place to visit, the birds, exhibitions and sea life.  Check out the link to see all of the events that happen year-round.
There are excellent applications available for us on our mobile devices.  Here are a couple he suggested:
Through The Cornell Lab of Ornithology…eBird & Merlin Bird ID, check them out.
Photography.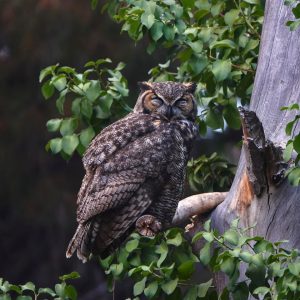 Believe it or not, Jerome didn't get his first camera until a date he can still remember. Leap Year, February 29, 2016. He mentioned that he just took this a couple of days ago. It is a great horned owl, also known as the tiger owl or the hoot owl.
For more beautiful photos, check out his social media accounts.  Twitter: Jerome G. @CAScrubJay and Instagram: Jerome G. Cascrubjay.  If you love photography and birds, you'll enjoy his pages along with the facebook page at the top of this post.
California Naturalist Program.
If you have an interest in learning about biodiversity, and conservation of living things, then follow this link to the California Naturalist Program. It is a community effort to protect habitats.  You don't live in California? No problem, here is a link for you to consider that lists Master Naturalist Programs by States.
I feel like I've made a new friend, all because of our love of birds!
From my nest to yours, Jerome…Thanks for joining me today and sharing your story!
---
What's Your Story?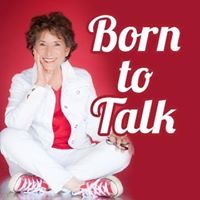 Conversations + Connections = Community
Do you have a story to share?  You can contact me directly at
Marsha @BornToTalkRadioShow.com