Podcast: Play in new window | Download
Subscribe: RSS
Thank you Joe Sperle for joining me on the Born To Talk Radio Show Podcast.
Joe.
If you are an athlete or a parent of an athlete, Joe is a Professional Sports, and Baseball Trailblazer and one of the top coaches in the nation.  Joe shares his roadmap to succeeding in your sport.  He knows how to avoid the pitfalls through his 40 years of sports playing and professional coaching experiences. He founded the Freedom Pro Baseball Minor League and signed over 200 talented college players to their first professional contract. They have played at the spring training stadiums across the country.
Athlete's Guide to Success 
A Roadmap to Becoming a Champion.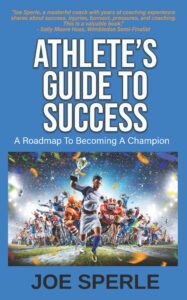 Joe shares compelling success stories and an athlete's roadmap that will illustrate what it takes to play sports at the High School, College, and Professional levels.  Joe has individually coached and mentored over 300 baseball players who went on to play in college on a scholarship. Subsequently, 48 were drafted by the Dodgers, Braves, Mariners, Yankees, Angels, Diamondbacks, Giants, Astros, Phillies,  Pirates, Rays, and Brewers.
In his book, he covers important decision-making processes.  As an example, do you know the path to being a successful athlete?  Do you know what it takes to compete at the High School, College, and Professional levels?
Joe's Takeaways.
Joe's goal is to help athletes reach their potential and educate parents on the roadmap for their children to be successful athletes.  While at the same time having positive life-developing experiences playing sports, this is one of the reasons why he wrote the book Athlete's Guide to Success – A Roadmap To Becoming A Champion.  As it turns out, many athletes are not reaching their potential because of burnout, overuse injuries, poor win-at-all-cost coaching, and parental pressure. Not to mention, not having fun anymore playing sports. Incidentally, why has there been a 70% decline of boys and girls ages 13 and older who are no longer playing sports? Remember as Joe said, "Sports is still a game."
In Closing.
If you are a sports fan and have athletes in your family considering playing sports in school and beyond, then this is the podcast for you. Perhaps, you are a Little League Coach, High School Coach, or College Coach, listen in to hear how you can work with your athletes. When you visit his website, there is a contact tab. If you have questions, he's the man to contact.
Lastly, stay connected to Joe, he has a documentary about his sports experiences coming out in the future!
As the song goes "Put me in Coach, I'm ready to play, today!"
***********************
Conversations + Connections = Community
Making the world a better place.  One Story at a time.

 What's Your Story? I want to share it!
 Marsha@borntotalkradioshow.com
Facebook    Twitter  Instagram  LinkedIn