Podcast: Play in new window | Download
Today's Born To Talk Radio Show Podcast, features my guest, Matthew Kuhlman.
Let's start at the very beginning…a very good place to start.
Matthew is a storyteller. He weaves his early days raised in a small town in Ohio, through his college years and 6 1/2 years in the Navy. His college experiences were a perfect fit, for his assignment as a Mass Communication Specialist. He wasn't the typical enlisted serviceman, he began his service at the age of 33.  You will hear how his responsibilities transferred into his civilian life.  Communication remains key.
Life through Matthew's eyes.
There are many words that describe Matthew, Advocate is certainly one of them.  Matthew has the ability to hear in people what hasn't been said.  He meets people where they are and watches and listens to their words.  Because of his awareness, sometimes the words are unspoken.   Matthew lives by the motto, "Actions speak louder than words." He looks for solutions. By doing so, he helps fellow service people deal with life outside the military, especially if they are struggling. Therefore, he's a "boots on the ground" kind of man.
Rosten Rescue Advocacy.
The Rosten Rescue Advocacy Facebook platform pertains to animal rescue and Veteran Advocacy. The goal is to solve community problems "AS A COMMUNITY." Working together with citizens, community leaders, and local law enforcement, they solve problems together while gaining the perspective of others. Matthew is dedicated to helping others by being involved in everyday issues that could otherwise be devastating circumstances. Whether the need is Veteran advocacy to ensure Veterans receive their benefits. Or, the need to rescue animal friends regardless of condition, ownership, or financial means.
Matthew began to fundraise in order not only to support what he does but also to raise the required funds to obtain his own 501(c)3.  He has a go fund me page. Matthew reaches out to multiple resources for larger funding to support life-saving medical procedures for animals. However, all of his efforts and time are not only voluntary but are funded from his own limited fixed income as a disabled Veteran. Even if contributing financially is not your thing, donations of dog food, towels, blankets, pet carriers, leashes, and collars, and pretty much anything that you could imagine would be helpful with multiple dogs, is always welcomed. Thank you for your consideration in helping Matthew help others.
---
This explains, Matthew:Looking at something from one perspective, as these tattoos, one might see a "befuddled guy" with his head in the clouds. Or with the other one, just a smiley face. When life "flips," and faced with obstacles, let reaching out to resources turn you into an "Einstein!!"
---
What's Your Story?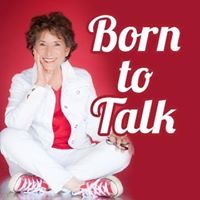 Conversations + Connections = Community
Do you have a story to share?  You can contact me directly at
Marsha @BornToTalkRadioShow.com