Join me on Monday, March 23rd from 1-2 PST on the Born To Talk Radio Show Podcast with my guest Michael Levy. Michael is a renaissance man.
Let's get to know more about Michael.
Michael grew up simply in a poor neighborhood of North Manchester, England. He left school at sixteen, started his own business at nineteen with $100 and was married with two children before he turned twenty-one. He retired successfully from the business world at forty-six and went to live in Florida. After six years, of asking profound questions inwardly, he woke up one day and started writing the answers.
The Professional Optimist.
Michael is now known as a Professional Optimist.  He is an international talk host, philosopher, poet, and author of 16 inspirational books. Michael's poetry, essays, and investigative journalism enhance many web sites. They include newspapers, journals, and magazines throughout the world. He is a prominent speaker on health and wellness maintenance, stress eradication, wealth creation and development, authentic happiness and inspirational poetry.
We will be talking about 10 Characteristics of Power for Optimal Living. They include:
Innovation          Infuse
Inhale                   Instinct
Inspire                 Inspirit
Intuition              Ingenious
Insight                 Intelligence
The Author.
Another topic we will be discussing that is equally timely, is the book Michael wrote with his wife Margaret.
"Well Well Well"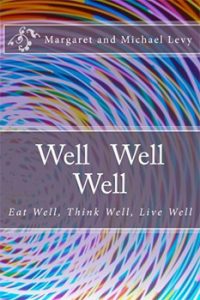 Eat Well, Think Well, Live Well
Above all, there has never been a time that has required all of us to remain calm.  Consequently, we will get through this crisis together. I understand this is much easier said than done.  Perhaps you may get a tip that resonates with you to help you remain calm and redirect fear.
His motto: "The universe supplies you with a treasure chest of unprocessed energy by way of creative thoughts… How you refine them accommodates the harvests or the famines in your life."
---
If there was ever a time when looking at life through an optimistic lens, it's now.
---
What's Your Story? Conversations + Connections = Community