Podcast: Play in new window | Download
Subscribe: RSS
Thank you Shannon Wallis for being my guest on the Born To Talk Radio Show Podcast.
Meet Shannon.
Family.
Shannon is the proud mother of two teenage daughters. She's been happily married to her husband for twenty-two years and resides in Bellevue, WA, outside of Seattle. When she's not supporting clients and organizations to embrace their highest potential, you can find her traveling the globe, exploring cultures, meeting new friends, and seeking connection, community, and . . . chocolate!
Professionally.
If you speak to Shannon long enough, you will hear her say, "Anything is possible."  She knows it's a phrase most people write off as a cliché. But she doesn't.  It's her mantra because before she was a leadership consultant before she was a senior executive at a Fortune 100 company before she received her MBA from Duke, she was a young woman in a small town, from a humble home, with little hope of ever leaving.
She will tell you she grew up in privilege because she was fortunate to have been born in the United States.  She says it's all perspective.  In fact, she grew up with a family income under the poverty line. But Northwestern University made her dream of an education possible through scholarships, grants, loans, and work-study programs.  It confirmed her belief that anything is possible.
More importantly, Shannon believes you too can accomplish the remarkable, and she is here to help you make that happen. Bottom line—she's not satisfied with "what ifs" that lead to "only ifs," and you shouldn't be either.
At Microsoft, she became the first person to head up High Potential Leadership Development on a global level. How? By being the first person to both see the need and act on it. In the role, she led a global team of high-performers and managed a multi-million dollar budget. She also learned a lot; no matter where you work or where you live, exemplary leadership cascades through an organization and makes everyone better.
Are you ready to make change happen?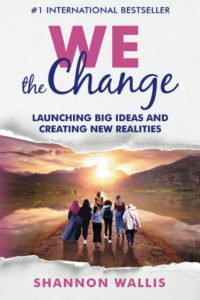 Originally inspired by a desire to leave her daughters a lasting legacy, WE the Change emerged as an extraordinary roadmap for anyone yearning to transform their life, organization, or community.  Merging her life-changing experience walking El Camino de Santiago, a 500-mile medieval footpath across Spain, with thirty years as an organizational change and leadership consultant, Shannon offers readers an intimate, powerful yet practical way to authentically create what they want.
WE the Change encourages and guides you, step-by-step, through the challenging terrain that every woman faces when she's trying to launch something new.  Through each chapter you will :
Uncover and deepen your authentic vision
Discover specifically what's standing in your way
Learn practical tools to overcome obstacles
Create a potent support system that keeps you moving forward
Recognizing a gap between what you want to create and what you are leaving behind is essential to induce a need for change. No gap, nothing to do.  Whether you start by examining where you are or begin with a vision of what you would like to create does not matter. As long as you establish a gap between the two, Vision and Dissatisfaction, you can identify the First Steps to close it and reach your destination.
In closing.
This book will support you in establishing and navigating the gap and identifying the first steps by developing a compelling formula for your Big Idea or New Reality, however, you choose to define it.  Here's the link to purchase the book.  10% of the proceeds are donated to non-profits once a month that uplifts women and children.
---
It's Time to Make the Impossible Possible!  Are you ready?
Tune in to hear more!
---
Conversations + Connections = Community
Making the world a better place.  One Story at a time.

What's Your Story?  I want to share it.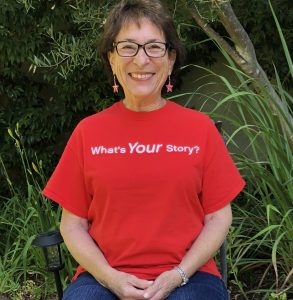 Marsha@borntotalkradioshow.com
Facebook    Twitter  Instagram  LinkedIn