Monday began the beginning of the Christmas Wreath sales at the Westchester Family YMCA where I belong and worked for 10 years. I am a member of the Y's Service Club. Many of these wonderful members are the age of what my parents would be if they were still alive. Then there are some of us that are a couple of decades younger.
In the "old days" we were known for our Christmas Tree Lot. We raised lots of money that was used to support Youth Programs. As the years have gone by, we've lost some tremendous community leaders that helped make my hometown a great place to live. We've had to make some adjustments as we continue to support Youth Programs, now we sell wreaths instead.
The wreaths are enhanced with beautiful bows, wonderful ornaments and decorations fitting for the season. I am not handy with a glue gun. I have never been handy. In truth, I'm probably too lazy to learn to be handy. I would much prefer to talk. Luckily I have very handy friends that said yes when I asked for help!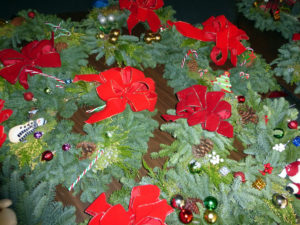 I retired from the Y nearly 9 years ago. Those were very special times being part of a large community of people of all ages, gender and ethnicity. The members were like family to me. I came to know them well and cared very deeply for them.
Once I stopped "working 50 plus hours a week" at the Y, I reduced my visits to daily exercise for the first several years and then the last 18 months, replaced the daily visits with personal training twice a week.
Now my routine has me in the gym in the afternoon, rather than first thing in the morning with my "regular peeps."
You can't imagine how much fun I've had this week running into those "regular peeps". What I've found so inspiring is how many people embrace regular exercise as a lifestyle. Not just a once and a while lifestyle but for many, daily exercise.
Take Glen and his wife Sue. He's 96, she's 93. They come 3 times a week. He retired 3 years ago from the mental health profession. I remember the little kids that took swimming lessons, their parents were happy to see them last week when they were home for Thanksgiving from college. I also worked with some wonderful young adults that are now married with children.
I had lunch yesterday with my "partner in crime" as we did our best to keep members satisfied. We shared lots of laughter over our days together. I saw my former Executive Director today as she picked up her wreath and dropped off bags of pine cones.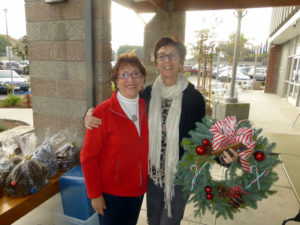 Today I met a stay at home dad with 2 little girls, ages 4 ½ and 2 ½. If he is an example of today's stay at home dad, I wish we lived in an economic time where more dads could lead by that example. What a wonderful new family to our community.
The point of this story is to say, we can stay in one place and never grow, or we can embrace life and appreciate the gifts of others. The Y has always provided that opportunity. In this season, when counting our blessings matter, I am so grateful to be a part of such a worthwhile organization.