Podcast: Play in new window | Download
Subscribe: RSS
Thank you, Angelina Lee, from Handshake, for joining me on the Born To Talk Radio Show Podcast. She is their Mid Market Customer Success Manager.
Angelina.
Angelina and I met many years ago when she was working at the Westchester Family YMCA.  When she left the YMCA, she became the Assistant Director of Career Services at Otis College of Art and Design. Then she joined Loyola Marymount University as the Director of Employer Engagement, of Career and Professional Development. She currently works for Handshake, a perfect transition in her career.
In her free time, Angelina enjoys spending time with family and friends, singing, dancing, playing piano, guitar, and practicing martial arts. She has a black belt in Taekwondo and has trained in classical Chinese Tai Chi sword and fan dance.

Handshake.
Founded in 2014, Handshake is headquartered in San Francisco with offices in Denver, New York, and London and teammates working globally. They offer a unique 3 sided network of students, employers, and educational institutions.
Handshake is the #1 place to launch a career with no connections, experience, or luck required. Handshake's community includes over 13 million students and young alumni from around the world from 1,500 educational institutions. This includes four-year colleges, technical & community colleges, boot camps, and 290+ minority-serving institutions.
The platform connects up-and-coming talent with 855,000+ employers – from Fortune 500 companies like Google, Nike, and Target.  In addition to thousands of public school districts, healthcare systems, nonprofits, and even sports teams like the LA Dodgers.
Angelina's Takeaways.
Listeners will learn about Angelina's circuitous route from non-profit administration, and higher education, to education technology. You can get highlights on the current career development landscape for Gen Z (early talent), and how Handshake democratizes access to all students to find a meaningful place to work and grow.
In Closing.
Handshake's goal is to help all students and recent grads find their next opportunity. This podcast will answer questions for students and their families for the next opportunities in their lives.
Thank you, Angelina.
Conversations + Connections = Community
Making the world a better place.  One Story at a time.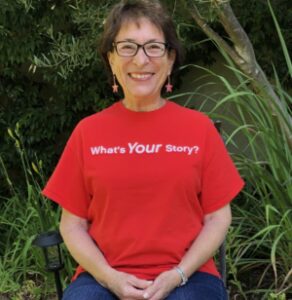 What's Your Story? I want to share it!
 Marsha@borntotalkradioshow.com
Facebook    Twitter  Instagram  LinkedIn