Join me on Monday, September 2nd on the Born To Talk Radio Show Podcast from 1-2 PT with my guests, Angie, and Ruth McCartney. You are in for a treat!!!

Meet Angie.
Angela Lucia McCartney was born in Liverpool, UK in November of 1929. She married her first husband Eddie in 1956 and daughter Ruth was born in February 1960. Sadly, Angie was widowed in 1962, and in 1964, her old friends Bette and Mike Robbins introduced her to Bette's Uncle, Jim McCartney. Angie and Jim were married in November 1964 and spent 12 loving years together until Jim passed over to that great tea dance in the sky in March of 1976. Jim adopted Ruth and gave her his name, and she has the fondest remembrances of the only Dad she ever really remembered.
Known around the world as Sir Paul McCartney's step-mum, 'Angie' is a star in her own right and has all the correct ingredients: the name, the class, and the brass. She's polite, flamboyant, has a sweet disposition and a potty mouth. She serves up a proper cup of British tea each morning and follows it with a belt of the hard stuff at night.
Angie's life has always revolved around tea, from surviving World War II to celebrating the announcements
of number one chart hits with a friend and frequent house-guest, John Lennon, over breakfast at Rembrandt,
her Merseyside home in the 1960s. She started a brand new organic tea business, Mrs. McCartney's Organic Teas in her late seventies, and now, at the age of 89, she is still feisty as ever. However, Angie still begins every day with a nice cup of tea.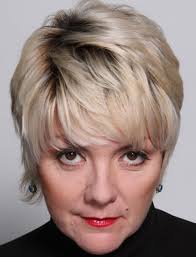 Meet Ruth. The Digital Diva
Ruth McCartney, originally a British musician, and the stepsister of Paul McCartney, is now an internet, digital and new media entrepreneur holding the title of CEO of McCartneyMultimedia.com, a creative digital agency with her husband Martin Nethercutt and mother Angie McCartney, in 1995.
After many successful years in the web development and digital realms, McCartney Multimedia Los Angeles has spun off in a new division: McCartney Studios. Ruth is also a partner in her mother Dr. Angie's companies Mrs. McCartney's Organic Teas and Mrs. McCartney's Wines. 
From the earliest days of The Beatles fan club management to e-marketing solutions, mobile donations and marketing campaigns, Ruth covers the spectrum of social media from past to present and is constantly working on future technologies.
What's their story?
Pour yourself a cup of Mrs. McCartney's Organic Tea, or something stiffer if you prefer, and listen in to the stories they have to share.  I know from experience, that they both love a great conversation. By the way, Angie asked me to join her on her Tea Flex Tuesdays a couple of months ago. We simply sat on her couch, and Ruth's husband Martin let the camera roll.  They are a hoot!!!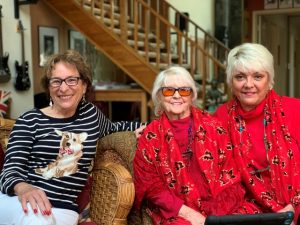 ---
What's Your Story?  Conversations + Connections = Community
Do you have a story to share?  You can contact me directly at
Marsha @BornToTalkRadioShow.com