Thanks, Kara Mayer Robinson, for being my guest today on the Born To Talk Radio Show Podcast. You are so enjoyable to talk with, it's no wonder that your Really Famous Podcast guests love having a conversation with you. Much like me, the industry calls what we do "interviews" but clearly you and I enjoy a great conversation. I appreciate how calm and relaxed you are. You make what you do seem effortless, but trust me, I know the effort that goes on behind the scenes!
How does she do it?
When you listen to the show you will learn about Kara's background and her journey from being a Columbia University-trained Psychotherapist to moving into the business world at Comedy Central. Along the path, she combined her skills and began writing for many publications. Her road to today is extraordinary, but she is too humble to say that about herself. She puts in many hours behind the mic, in front of the mic, and her efforts have really paid off. Kara also has a local community TV show, where she is in front of the camera.
Where can you learn more?
Not only does Kara host and produce her podcast, but she can be seen on YouTube Really Famous with Kara Mayer Robinson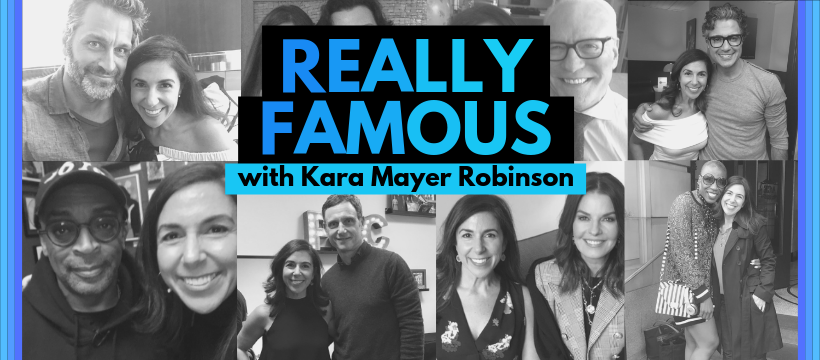 Do you recognize these faces? I bet you do!
When we talked about personalities, she coined a great description of herself. She said, "there are innies and outies." Those that prefer more of a private lifestyle are the "innies" then there are the "outies" that would describe both of us, we're just out there! Hear about her first "interview" with Tim Gunn and much much more! Don't miss her Instagram and Facebook page too!
---
What's Your Story? Conversations + Connections = Community
Do you have a story to share? You can contact me directly at
Marsha @BornToTalkRadioShow.com