Podcast: Play in new window | Download
Subscribe: RSS
Thanks to, Angie and Ruth McCartney for joining me on this first Monday in September 2019 on my Born To Talk Radio Show Podcast. Time sure flies when you're having fun and today was no exception!  It might be Labor Day, but this show was far from being work, it was a Labor of Love!  And that's all we need!!
I was a huge Beatles fan growing up as were my friends. The British Invasion was much more exciting than math or science.  Fast forward some 55 years later, and I truly mean fast.  I could never have imagined my life today.
How lucky am I have to exceptional guests week after week sharing their life stories with you?
From the start!
I knew the moment I met Angie we would become fast friends. I wish you could have been sitting at the Westchester Elks Lodge table with us on the 4th of July, after our community parade. We had a major earthquake that day, which neither of us felt.  But I can assure you, as Carole King sang I did, "Feel the earth move under my feet" when we started talking. Our conversation would be censored in print, but Angie definitely got my attention! Fiesty is an understatement!
Angie's daughter Ruthie, as Angie calls her, was bringing her a glass of wine when she and I met. She too is full of life.  It wasn't until I was invited to their home not far from mine, to be a guest on a podcast with Angie, that I got to know Ruthie even better. We all clearly love music and could have just made it a karaoke afternoon. But the show did go on, and I had a blast with them!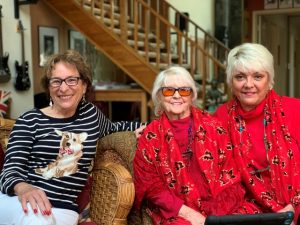 Now it is my turn to share their stories with you.
There are stories!
Angie takes us back to the early days of her life and what it was like living as a child during World War II in Merseyside and then Liverpool. Those were not easy times. Education stopped early for everyone, 11 for Angie.  That didn't stop her from working, starting at age 14, one could say, she's never stopped!
Both widows, Angie shares her story about how she met Jim McCartney, Sir Paul's dad, from good friends. They fell in love and were married for 12 short years until he sadly also passed away.
---
There's a great story about Ruth's awareness of her stepbrother Paul, at age 4 when she met him for the first time. I'll just say wallpaper, you'll need to listen to hear why.  Ruth shares her stories about, singing, dancing, choreographing and modeling just to name a few of her talents. Ruth has traveled all over the world. Recording albums in non-English speaking countries. I might mention she too is Fiesty, must be genetic!
And it Doesn't stop there.
These are entrepreneurial women.  Not only are they a mother-daughter dynamic duo, but they are also business partners.
Here are the links to their businesses. I really recommend checking them out!
Mrs. McCartney's Teas.  Mrs. McCartney's Wines.  TeaFlixTuesdays.
The businesses below keep Ruth and her husband Martin Nethercutt on the go!
McCartney Studios. McCartneyMultimedia.
Lastly.
We spoke about their latest project that will soon be a documentary. Around the World in 10,000 bites with Chef David Skinner.
I hope you enjoy the show and their stories, it's true that All You Need Is Love and I sure felt that today on this Magical Mystery Tour with these two wonderful women!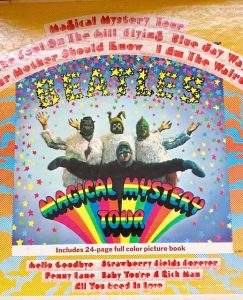 ---
What's Your Story?  Conversations + Connections = Community
Do you have a story to share?  You can contact me directly at
Marsha @BornToTalkRadioShow.com