Join me for another episode of the Born To Talk Radio Show heard live on Monday, July 16th beginning at 1:00 PT. My guests this week are Stephanie Colman and Mike Steinmetz from Guide Dogs of America.
Here is the Mission of Guide Dogs of America:
Guide Dogs of America empowers people who are blind and visually impaired to live with increased independence, confidence and mobility by providing expertly matched guide dog partners. Our services are provided free of charge and available to people within the U.S. and Canada.
Stephanie is the puppy program coordinator at Guide Dogs of America.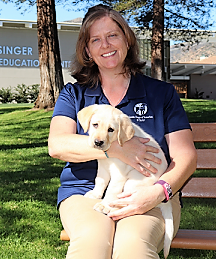 Stephanie recruits, manages and supports the organization's volunteer puppy raisers who lovingly foster future guide dog prospects. Stephanie brings a unique professional background to GDA, having spent more than 20 years as a professional dog trainer, a freelance journalist, and a non-profit communications consultant. Each of these skills greatly support her efforts in the puppy department. When she's not helping puppies find perfect foster homes with dedicated puppy raisers, you'll often find her hiking and training her own dog, Saber, a spunky Golden Retriever. She's always ready to "talk dog" with prospective puppy raisers, and is eager to welcome new volunteers to the program.
Mike was born and raised in the San Fernando Valley area of Los Angeles.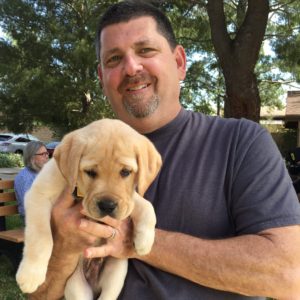 Mike is married to his wife Margo, and has three adult kids. Mike has been a volunteer "puppy raiser" for Guide Dogs of America since November 2015. He has raised two puppies for GDA – Jazzy and Astro. Mike became involved with GDA as two of his brothers are visually impaired and have received guide dogs from GDA. Mike enjoys fishing and watching baseball games for relaxation.
Here is an opportunity for you to learn about GDA. Maybe you would like to be a puppy raiser. Maybe you know someone that could benefit by having a Guide Dog. You don't want to miss this show!
If you can't listen live, I will post the link after the show for you to listen when it works best for you.
Do you love listening to Podcasts? Simply check the subscribe button on this post and you will receive a reminder email each week about the upcoming shows. Now you have many different sites to chose from, just click on your favorite icon!
Born To Talk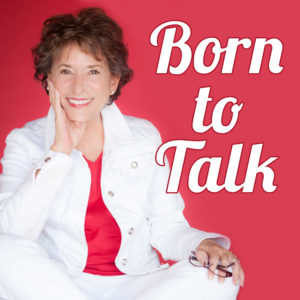 Conversations + Connections = Community
What's Your Story?
Here's how you can reach me.
marsha@borntotalkradioshow.com