Podcast: Play in new window | Download
Subscribe: RSS
Joining me today on the Born To Talk Radio Show Podcast, was Christy Gardner.
The backstory.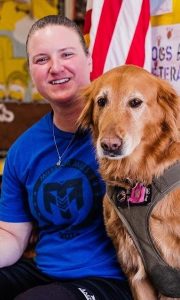 Christina "Christy" Gardner is a 38-year-old retired Army veteran from Lewiston, Maine. She was injured overseas in July 2006 while peacekeeping. Unfortunately, Christy ended up with skull fractures, traumatic brain injury, spinal cord injury, internal organ damage, but most notably, lost both legs and two fingers and now has epilepsy. She spent nearly 5 rehabbing before she was finally able to live on her own again.  That's when she started participating in adaptive sports, thanks to her Service Dog Moxie.  Moxie is a seizure alert response dog and mobility assistance golden retriever
Christy is an assistant captain of the US Women's Para Ice Hockey Team as well as working her way toward Tokyo 2020ne in the shot put and discus. She also recently represented the USA at the Para Surfing World Championships back in March.
Mission Working Dogs.
Mission Working Dogs trains purpose-bred dogs to aid individuals with disabilities so that the handler can live life to the fullest and more independently.
"I've seen what Moxie's done for my life and what service dogs do for folks in general, and I had worked for a labrador breeder… so they had taught me how to select proper puppies, and start puppy raising and the basics there.  I've actually been doing that for about 9 years training service dogs and therapy dogs but there was such a great need here in our area that I couldn't keep up with the demand so I founded the actual foundation and we have a full board of directors and veterinarian and trainers and all kinds of different Disability Advocates our board." There is hope to build a new training center next summer. The current class of dogs will graduate in April with a fall class and a 2022 class already in progress.
New England Warriors Ice Hockey Program.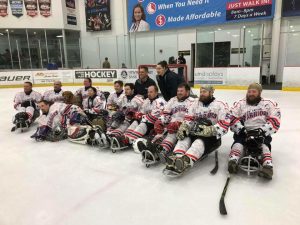 The New England Warriors is a sled hockey program that is a chapter of the USA Warriors. It consists of wounded, ill, and injured veterans and supporters. Northeastern Sled Hockey League

Lucky Little Guy Big Mission.
Christy along with her very good friend Eileen Doyon has written a wonderful book. I highly recommend you reading this and sharing it with your family and friends. It's beautifully illustrated. Based on a true story, Christy and Eileen share the story of Lucky  50% of the proceeds will go to her non-profits.
What's Next for Christy?
Christy is training to qualify for Team USA U.S. Paralympics Track & Field.  Her event is shot put. Currently, she is 2nd in the world in her event. Christy is also training for the 2022 World Championship Women's Sled Hockey
With all that Christy does, what is first and foremost to her is giving back.
She is living that daily dream and continues to support and inspire all that know her.
---
Conversations + Connections = Community
Making the world a better place.  One Story at a time.

What's Your Story?  I want to share it.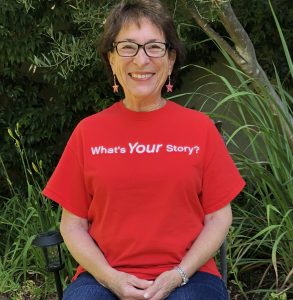 Marsha@borntotalkradioshow.com
Facebook    Twitter  Instagram  LinkedIn