Joining me on Monday, March 29th from 1-2 PT on the Born To Talk Radio Show Podcast is, Retired Army Sergeant Christy Gardner.  Christy is the founder and President of Mission Working Dogs. She is also the founder of the New England Warriors Ice Hockey Program.
Christy.
Christy's passion for dogs has deep, personal roots. Serving as a Sergeant in the United States Army Military Police in Asia, Christy survived an injury in 2006 which eventually led her to accept her golden retriever service dog named Moxie in 2010.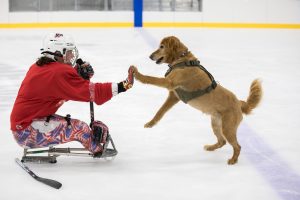 The two became inseparable and Moxie has accompanied Christy on many "missions" of their own.   They include competing with Team USA as an athlete on the Women's Para Ice Hockey Team and on the USA Para Surfing Team. Christy is a World ranked Para thrower and is currently aspiring to make the US Paralympic Team for Tokyo 2020ne.
Christy is a certified dog trainer with nine years of experience training Service and Therapy Dogs and five years experience with breeding.   She had a dream of empowering others to fruition with the creation of Mission Working Dogs.
Mission Working Dogs.

Their mission:
"To improve the lives of our community members who are living with a disability by providing them with properly trained service dogs to help them live more independently despite a physical disability and by providing therapy dogs which will bring mental well-being to the people of Maine such as those in nursing homes, hospitals, and schools."
Their vision:
"At Mission Working Dogs, we train purpose-bred dogs to aid individuals with disabilities so that the handler can live a life to the fullest and more independently."
Their goal:
"Service dogs can assist those with physical disabilities such as mobility impairments by fetching dropped items, opening doors, and turning on and off lights. They can also help individuals with PTSD by learning to recognize an increase in anxiety, carrying medications, and providing deep pressure therapy to calm or redirect the handler.  Dogs working as facility dogs are often trained to recognize a patient's affected side in the case of a stroke and to approach on the side the patient is able to pet with or throw the ball. Patients are able to work on fine motor movements in petting or caring for the dog as well as gross motor skills playing fetch with a dog that's able to bring the ball exactly to where the patient needs, such as on a side table or directly into their hand, rather than on the ground or trying to play tug with it inappropriately."
New England Warriors Ice Hockey Program.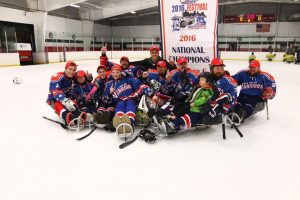 In 2014, Christy "Icebox" Gardner and Ian "Battleship" Ramsdell decided that upon Ian's medical retirement, they would create a sister chapter of the Warrior program. In February 2015, Christy, Ian, formed the New England Warriors. They played their first official game in Vermont against the Ice Vets.   
The New England Warriors are a chapter of the USA Warriors, The USA, and New England Warriors.  Their programs are designed for the rehabilitation of wounded, ill, and injured service members and veterans. They are a private, non-profit organization dedicated to educating, training, motivating, and encouraging the formation of "USA Warrior Hockey Programs" locally and nationally.  While at the same time, they are encouraging Active Duty Military, Reserves, and Veterans who have physical disabilities incurred during service to the United States to participate in the sport of ice hockey in an environment that is adapted to the level of their ability.
Christy lives in Maine with her dogs Moxie, Doug, and Libby.  They enjoy everything the outside has to offer, from kayaking to hiking to hanging out at their camp in Western Maine.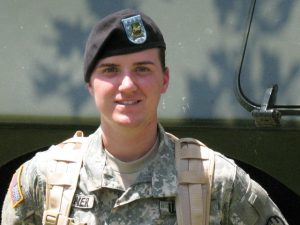 Christy is an inspiration to everyone that meet's her, but she also remains humble. 
Thank you for your service, Christy, and for bringing your light to everyone that meets you!
Tune in to hear about the great work she is doing in her non-profits!
---
Conversations + Connections = Community
Making the world a better place.  One Story at a time.

What's Your Story?  I want to share it.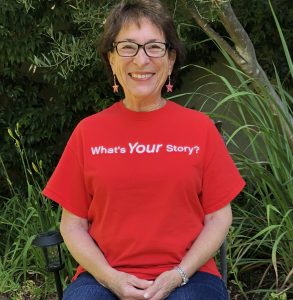 Marsha@borntotalkradioshow.com