Podcast: Play in new window | Download
My guest on today's Born To Talk Radio Show Podcast was Deborah Gaal.
This was a delightful conversation as we explored what Deborah does professionally and the many crossovers of life experiences we share as her story unfolded.
In the Beginning.
When Deborah was young, she thought she would like to be an actor, just like her mother.  She loved what the dialogue of acting meant. At that time she didn't know being an author was another way of sharing the love of dialogue. When she realized that writing a novel was on her horizon she took writing courses at the University of Irvine, in California. She connected with mentors and writing groups.  Her advice to budding authors is to consider joining writing groups and also writing conferences.
The Dream Stitcher.
Deborah's mother loved the Bayeux Tapestry created in Canterbury 1070.  She was so moved by it, that she replicated it into needlepoint of that scene of the battlefield. The completed final size was 6 ft x 14 ft a total of 845 sq. ft. The project took 8 years to complete.  Because Deb loves history and is able to weave her words into a book, she saw this as a woman that could sew dreams into reality.
The Dream Stitcher story moves eloquently between two time periods and places, America in 2008 and World War II in Poland.
Here is an excerpt: "Hard times are forcing Maude Fields to take in her estranged mother, Bea, whose secrets date to World War II. Bea arrives with a hand-embroidered recreation of La Tapisserie de la Reine Mathilde, the iconic 11th century Bayeux Tapestry. The replica contains clues to the identity of Maude's father and the mythical Dream Stitcher, Goldye, a Jewish freedom fighter who helped launch the 1943 Warsaw Ghetto Uprising."
Deborah's book was awarded the winner of the 2019 Indie Reader Discovery Awards and a finalist in the 2018 National Jewish Book Award.  While The Dream Stitcher was her first published book, she was working on her second book prior to its release.
Synchronicities on the Avenue of the Saints.
Deborah shares how this story started because of a family member dealing with bipolar disorder. Conventional treatment wasn't helping.  In her book, "racing to beat the clock before an experimental drug steals his mind, bipolar physicist Noah Friedman had to make a decision. He joined forces with his burnt-out CEO mom, his failed journalist friend, an African Shaman, and a Russian Revolution-Era ghost. The intention was to halt the launch of this deadly med, stop a pharmaceutical kingpin from raiding the family business, and prove that love creates synchronicity with what and who is loved."
Takeaways.
What does synchronicity mean to Deborah?   "It marks the points at which the personal and the transcendent come together in each of our lives.  I look for synchronicities each day.  I track them and make note of them and it gives me comfort to know I'm on the right path."
Define shaman. "A shaman is a healer or learned man or woman from an indigenous culture anywhere in the world.  American Indian, South America, the continent of Africa, Australia, New Zealand.…anywhere where there's indigenous culture. Indigenous is an original culture from that area."
When asked, why is this book relevant today?  Deborah said the following: We live in a bipolar world, whether it's our political divide, our disparate views on racial discrimination, or our divide of the haves and have nots.   But, we can help heal the world and ourselves by embracing indigenous beliefs and infusing them into the modern world, the world of concrete, steel, and wires.  In the process, we have become separate from nature.  Rather than be in a bipolar world, we need to be whole.
"Magic realism adds an intriguing element to the story for me and I hope for my readers."
"My goal as a writer is to take emotion and energy and stick it onto the page.
It's a transfer of energy between writer and reader."
---
Conversations + Connections = Community
Making the world a better place.  One Story at a time.

What's Your Story?  I want to share it.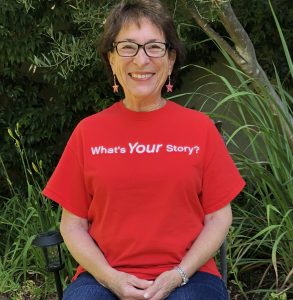 Marsha@borntotalkradioshow.com