Diane Kane will be joining me again, on the Born To Talk Radio Show Podcast, on Monday, September 25th from 1-2 PT.
Meet Diane.
Diane lives in a small rural town in Western Massachusetts and spends her summers on the rocky shores of Maine chasing her dreams of writing.
Diane has been writing since grade school with dreams of someday writing a novel. Her fiction and nonfiction short stories appear in numerous short story anthologies. She is the co-author and publisher of two short story collections in 2018 and 2020.  Flash in the Can Number One and Number Two. She also writes public interest articles for magazines and several newspapers.
Her first children's book, Don Gateau the Three-Legged Cat of Seborga, published in English, Spanish, French, and Italian, won the Purple Dragonfly Award for Caring/Making a Difference in 2020. The sequel Don Gateau Moves to Vallebona is due for publication in 2025.
Diane published her second children's book, Brayden the Brave Goes to the Hospital, in April 2021 to help children and families with medical issues.
Author.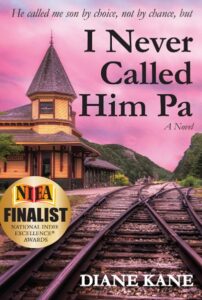 In 2023, Diane finally realized her dream of writing a novel when she released I Never Called Him Pa to rave reviews. It won the National Indie Excellence Award for Finalist in the Best Cover category.
I Never Called Him Pa is a coming-of-age novel set in the 1950s. It's told in the voice of a young fatherless boy living on a farm in Northern Illinois raised by his grandmother and wayward mother.
After WWII, the military sent men home on trains. Some never got off. They rode the rails in boxcars, searching for their souls lost to the toils of society or the ravages of war. Ernest, one such man of color, comes to live with a weary widow. Along with her young grandson, and her wayward daughter on a farm by the tracks in Northern Illinois. Their sins and secrets could either drive them apart or bind them together. Take a journey you will never forget in I Never Called Him Pa, by Diane Kane.
In Closing.
Diane measures her success by the friends she's made along the way.
Tune in to hear her story.
Conversations + Connections = Community
Making the world a better place.  One Story at a time.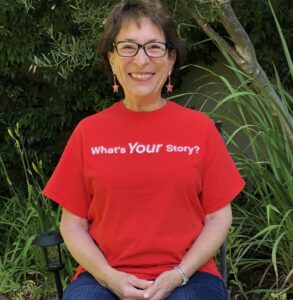 What's Your Story? I want to share it!
 Marsha@borntotalkradioshow.com