Podcast: Play in new window | Download
Subscribe: RSS
Thank you to my guest, Dianne Gardner for joining me on the Born To Talk Radio Show Podcast. Diane, also known as D. L. Gardner "paints" a beautiful picture of her life.  Dianne and I went to high school together in Los Angeles. She and her husband live in the picturesque Puget Sound, in Washington State.
For the Love of Art.
Dianne's love of art started at a very young age. Both of her parents were artistic. Her mother introduced her to oil painting, and the rest is history! You will hear about the type of artwork she enjoys and you can view her paintings online in the gallery on her website. Currently, she has practiced art beyond the visual to authorship novels and screenplays as well as filmmaking.
For the Love of  Writing.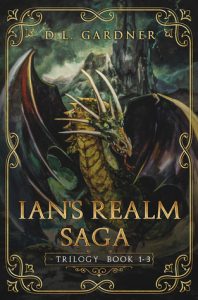 Perhaps you've thought about writing a novel, or a short story, or a special letter to a loved one.  Starting with poetry, Dianne found her voice in a written form. While she continued to write, it wasn't until 2013, that she published her first novel. Ian's Realm.  She is also responsible for the dragon art on the cover!  Have you ever wondered how long it takes to write a novel? Listen in.
Dianne tells us why she has been intrigued by writing, because of her love for human beings and studying personalities. Her books are character-driven.  As an avid reader and writer, she understands what she would want to read and uses that in her own writing process.
Once we are all able to get out and be in classes together, Dianne will teach writing. Since that may be a while away, here is an example of her writing process.
Start with a system.  2.  What is the premise, "plot?"  3. Develop the characters.  4. Make an outline, with events.  5. Map it out with a timeline.  She visualizes what she writes. Ultimately these will become chapters.  For Dianne, she can complete that process in 15-30 days for a first draft.
What Comes Next?

 From her novel, Cassandra's Castle.
An award-winning screenplay and film! Check out the trailer!
Dianne is living her dream.
And, get ready…
An Adult Romance Fantasy!!  Join her mailing list to follow her dreams.
---
This is how Diane feels:
"I want to write books that count, that means something. That has gems of truth in them and that touch hearts."
---
What's Your  Story? Conversations + Connections = Community