Podcast: Play in new window | Download
Subscribe: RSS
Thank you, Ellie Laks, Founder of The Gentle Barn, for joining me on another episode of my Born To Talk Radio Show Podcast.
Ellie has always loved animals. She recalls being a 7-year-old growing up in St. Louis surrounded by lakes and woods when her love of the magic of nature and animals developed.  When she saw animals struggling or suffering, she knew she would dedicate herself to loving and nurturing them. She saw them as teachers, healers, and friends. Not everyone saw animals the same way.  She asked herself at that young age, why did she see things so clearly in animals that others didn't? That was her vision!
Fast forward, 20 years ago when she went to a petting zoo.   She was curious about this place. She discovered that animals were really suffering.   There was a very old goat, named Mary that was struggling. Mary stopped Ellie at the door when she was exiting. When Ellie asked the owner if she could have her, the answer was no. Then she asked her if she could buy her and got the same answer. This is where tenacity and conviction kicked in. Ellie knew if she left, that Mary was going to die. She was not going to take no for answer. She remained at the petting zoo for 12 days. Finally, on day 13, the lady told her to get the goat and leave! She brought her home and healed her with the help of a Veterinarian.
Two things about the Gentle Barn.
They take in animals because they have no place else to go because they are either too old, too sick or to lame to be adopted by other agencies.  Instead of euthanizing them, they heal them with veterinarian care, including chiropractors, acupuncture, massage therapy, ultrasound, water therapy, and nutrition just to name a few.  And, lots of love. Once they're happy and healthy, they can be adopted or live in the sanctuary at the Gentle Barn for the rest of their lives.
When the animals are ready, they help with the second part of their mission which is to partner with the animals to heal people with the same stories of trauma and connect children to the magic of the love of animals.
As you might imagine, there are tons of stories about the animals that live at the Gentle Barn, now in three locations. The original location in Santa Clarita, California along with St. Louis, Missouri, and Nashville, Tennesse.
Meet Caesar.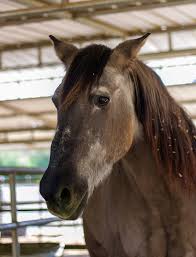 Caesar was a movie horse for 15 years. He was trained with a heavy hand and expected to be perfect. Afraid to make a mistake, Caesar eventually shut down and withdrew, hopeless and alone. Ellie found him and brought him to retire at The Gentle Barn.  It took three years to heal him, showing him it was safe to express his feelings and his personality. Caesar is now fully healed, the leader of the herd, and a gentleman to all. Today he is 33 years old.
Did you know?
Female turkeys love to be cuddled and petted. They will come and sit in your lap, close their eyes, and go to sleep. Did you know that cows can weigh between 1,000-3,000 pounds? They also love to be hugged and petted whether they're standing or lying down.
With Covid-19 still around us, the Gentle Barn has had to make accommodations. They're starting to have virtual classrooms, field trips, and live videos. Visit their website to learn more and subscribe to their newsletter.
As Ellie said:
Sharing the Bliss, Hope, and Inspiration! This is what the Gentle Barn is all about.
---
What's Your  Story? Conversations + Connections = Community