The Born To Talk Radio Show Podcast on Monday, June 15th 1-2 PT with be featuring Ellie Laks, Founder of     The Gentle Barn.
Ellie started The Gentle Barn after adopting a sick goat from a run-down petting zoo in 1999.

Let's Meet Ellie.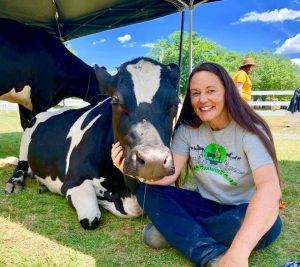 To begin with, Ellie is responsible for the daily care of the animals and programs at The Gentle Barn since its inception. Animals were always very healing and nurturing to her as she faced the challenges of growing up.
With a major in special education and psychology and her love of animals and children, The Gentle Barn is a perfect match for her passions.
Ellie is also a professional animal trainer and specializes in working with severely abused and mistrusting dogs.  As the Educational Outreach Director, Ellie works with hundreds of inner-city, at-risk, and special needs children each year.
The Gentle Barn History.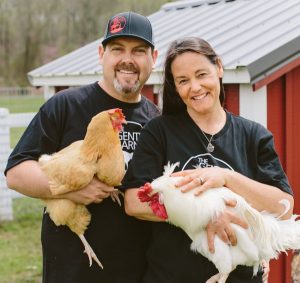 Jay Weiner, Ellie's husband,  joined The Gentle Barn in 2002 as a volunteer and fell in love with the place. The two joined forces to heal even more children and animals together. Like Ellie, Jay also turned to animals for the support, love, and nurturing he needed as a child.
Some two hundred animals later, The Gentle Barn has become an extraordinary nonprofit that brings together a volunteer staff of community members and at-risk teens to rehabilitate abandoned and/or abused animals. Therefore, as Ellie teaches the volunteers to care for the animals, they learn a new language of healing that works wonders for humans as well.
Can you feel the love?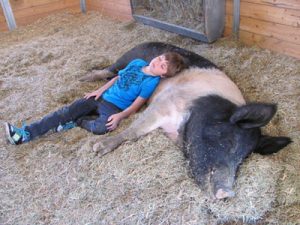 Where are they located?
The Gentle Barn started on a half-acre property in the middle of the San Fernando Valley, CA. In 2003 Ellie and Jay moved The Gentle Barn to a six-acre paradise in Santa Clarita, CA. The property is complete with large horse and cow pastures, a red and white barnyard for the smaller animals, an organic vegetable garden, lots of shade trees, and a panoramic view of gorgeous mountains. Currently, there are over 170 rescued animals living safe and happy at The Gentle Barn.  And, there is plenty of room to welcome their visitors and the children they host.  Currently, the tours are all virtual, until they are able to open up again.
The Gentle Barn has a second location in Nashville, Tennessee, and a third in St Louis, Missouri. It is their goal to open Gentle Barns in every state so that everyone in America can hug cows, cuddle turkeys, give pigs tummy rubs, and look into the eyes of these animals.  Therefore, knowing for certain that we are all the same, and deserving of the same rights, respect, and freedoms.
Since its inception, The Gentle Barn has saved thousands of animals and been host to over 500,000 people.
Author of My Gentle Barn.
My Gentle Barn weaves together the story of how the Barn came to be what it is today with Ellie's own journey. Filled with heartwarming animal stories and inspiring recoveries, My Gentle Barn is a feel-good account that will delight animal lovers and memoir readers alike.
Ellie has dedicated her life to being the voice of the voiceless.
Tune in to hear her story!
---
What's Your  Story? Conversations + Connections = Community