Podcast: Play in new window | Download
Subscribe: RSS
Thank you, Ellie Laks, founder of The Gentle Barn, for joining me today on the Born To Talk Radio Show Podcast.
Ellie Laks.
Ellie has always loved animals, she would head into the woods daily to be with them.  She shared her story about rescuing a baby bird that had fallen from a tall tree when she was just a little girl. That was her first rescue. In 1999, Ellie founded The Gentle Barn,  a national nonprofit organization. This animal sanctuary rescues and rehabilitates severely abused and neglected farm animals. Once the animals are healthy, they help Ellie heal at-risk inner-city and special-needs children.  By interacting with their animals and taking a hands-on role in their welfare, those who participate in their programs learn empathy, trust, and forgiveness.  Their mission is to teach people kindness and compassion for animals, each other, and our planet. They have had to put those programs on hold because of the pandemic.  But, they did have online courses for students last fall.
Ellie lives on the property outside of Los Angeles, in Santa Clarita, with her husband Jay, who runs the Barn with her, and their three children. Their other locations are in Nashville, Tennessee, and St. Louis, Missouri.
Ellie writes beautiful blogs about the animals at The Gentle Barn. A perfect example is about these wonderful animals below. Starting with John Lewis, Einstein, and Worthy. They have a story!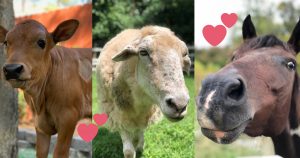 Creating a Sanctuary Where Animals Heal and Children Learn to Hope.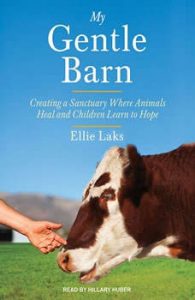 My Gentle Barn weaves together the story of how the Barn came to be what it is today with Ellie's personal journey. My Gentle Barn is a heartwarming, feel-good account that will delight animal lovers and memoir readers alike. It is a story about animal rescue, human recovery, love, life, and achieving your dreams.
Animal Communication.  
Ellie shared what intuition means to her and how she has been trained to be an animal communicator.  Ellie knew from a very young age that she was going to dedicate herself to be the voice for the voiceless. You can contact her to do a reading with you and your animal.
In closing, Ellie lives by the importance of love, it's what we all have in common. Whether we had it all along, got it from our animal companions, or we found it at The Gentle Barn, love connects us all and lifts us up. Love heals our hearts, propels us forward, and gives us hope for the future.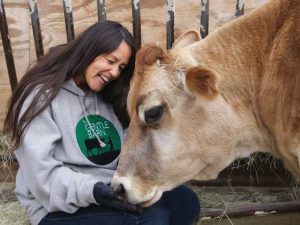 Thank you Ellie for what you do. You are an inspiration!
---
Conversations + Connections = Community
Making the world a better place.  One Story at a time.

What's Your Story?  I want to share it.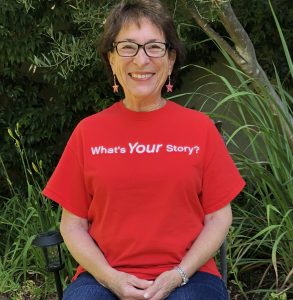 Marsha@borntotalkradioshow.com
Facebook    Twitter  Instagram  LinkedIn