Podcast: Play in new window | Download
Subscribe: RSS
Thank you Elly Katz for joining me on the Born To Talk Radio Show Podcast.
Elly.
Elly is the Founder and Executive Director of Sages and Seekers.  She is an experienced Executive Director with a history of working in the non-profit organization management industry. In addition, Elly has a strong creative business professional background with a BFA focused in Communication Design from the Rochester Institute of Technology.
Sages and Seekers.
Sages & Seekers is a non-profit organization producing intergenerational programming designed to develop empathy and diminish ageism.
Since its inception in 2009, Sages and Seekers has reached over 6,000 teens and seniors. Their programs have been implemented across the country in private & public schools. This includes universities, local senior centers, and youth-serving agencies. Furthermore, their virtual program has an international reach, engaging participants in countries such as Mexico, Colombia, Argentina, and Australia.
Their 8-week program can be integrated into a class curriculum, such as English, history, humanities, or creative writing.  They can also be offered as an extracurricular club as a way for students to fulfill their community service requirements.
Elly's Takeaways.
"Shattering stereotypes allows us to connect across divides and connection is vital for creating a meaningful life. When we take the time to look deeper than the exterior of our fellow man (or woman), the stories of success, failure, joy, and suffering live. Then we are able to connect on a deep human level. Going beyond tolerance to embracing humanity. That is where personal and global healing resides."
Tune in to hear Elly's story and how she is making a difference for so many people!
************************
Conversations + Connections = Community
Making the world a better place.  One Story at a time.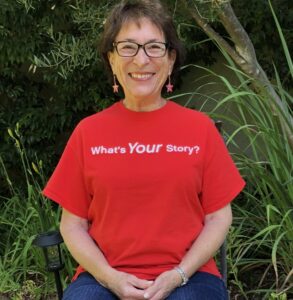 What's Your Story? I want to share it!
 Marsha@borntotalkradioshow.com