Elly Katz will be joining me on The Born To Talk Radio Show Podcast, on Monday, April 10th, from 1-2PT.
Meet Elly.
To begin with, Elly Katz is the Founder and Executive Director of the non-profit Sages & Seekers. She created Sages and Seekers in 2009, while living in Boston.  She gave up her career as a graphic designer to make an attempt at diminishing ageism.  Elly spent countless hours speaking with Senior Center Activity Directors, professors of Gerontology, and Educators, to ultimately design a meaningful and profound program.
Sages and Seekers.
The founding of Sages & Seekers was a response to Elly's belief that if everyone chose something that they were passionate about and donated time in that arena, we could turn the world around. Having a deep connection to elders, Elly's goal is to bring generations together in a way that destroys the myths and stereotyping that keep people apart.
Their Mission.  Developing Empathy through the Power of Conversation.
Sages & Seekers' mission is to develop empathy, combat social isolation and dissolve age-related segregation within our communities.  While at the same time, meeting the universal and compelling need of both young adults and elders to make sense of their lives. This is achieved by creating a sense of intergenerational community in their programs, through the art of authentic conversation.
Sages & Seekers offers intergenerational collaboration between older adults (60+), the Sages, and students (15-24), the Seekers.  During their programs, the exchange between the Sage and the Seeker offers the Sage an opportunity to share life experiences with an interested listener.   The Seeker is challenged to develop listening, interviewing, writing and public speaking skills, resulting in the development of empathy and a sense of purpose. Their curriculum fosters open communication and creates forums in which to discuss life and discover commonalities between generations. This shattering of stereotypes helps to diminish ageism.
Sages & Seekers addresses concerns for two generations at once. They provide both students and seniors an alternative to isolation. By doing so they have a sense of purpose and a connection to the larger picture of society and the world.  Hence, this is a win-win for everyone involved.
In Closing.
Today their non-profit reaches across borders virtually, to include participants at public and private facilities from Canada to Colombia. All offering multi-cultural and generational connection, to strengthen the bonds of humanity.
Tune in to hear Elly's story.
Conversations + Connections = Community
Making the world a better place.  One Story at a time.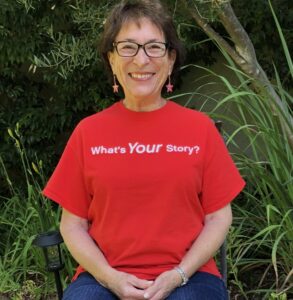 What's Your Story? I want to share it!
 Marsha@borntotalkradioshow.com
Facebook    Twitter  Instagram  LinkedIn