Podcast: Play in new window | Download
Today's show with my guest Jack J.Hersch, author of Death March Escape is unlike any story I've had the pleasure of sharing with you each week on the Born To Talk Radio Show Podcast.
The Book.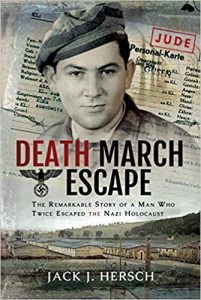 This is Jack's first novel and who best to tell the story of his father, then him. For years his father told stories about surviving the Holocaust during the Passover Sedar dinner. You may be surprised by what he had to say.
What was clear to Jack in hearing these stories of his 18-year-old father's escapes was the loving unconditional roles that Ignaz and Barbara Friedmann from Enns Kristein, Austria, played. They took a great risk to hide and house Dave in their attic. Had they been discovered, it would have been certain death for the family, including their children.
The Photograph.
Dave Hersch

What is the story behind this photograph? Why was it the launching pad that started this journey for Jack? His cousin Vivi called him from Netanya, Israel, just a short drive north of Tel Aviv. What happened next was startling for Jack. Because of today's technology, a simple Google search can shed light on subjects that were impossible decades ago.
What makes Dave's legacy so unique? How did he share his experiences with his family and equally important, what impact did that have on their lives?
Jack's Journey.
Jack went to visit the Mauthausen Concentration Camp. He takes us on his journey as he describes his experiences. Imagine his feelings being in the intersection where his father stood and seeing the locations that he had heard about for so many years. This experience left Jack with questions about himself and that discovery lead to his book.
Our conversation was as special as his book, Death March Escape. It's a heartfelt story of love and survival under the most difficult of circumstances and his legacy continues. This is his story.
---
What's Your Story?
Conversations + Connections = Community
Do You have a Story to share? Contact me. Marsha@borntotalkradioshow.com