Podcast: Play in new window | Download
Subscribe: RSS
Thank you Jean Brusavich for joining me on the Born To Talk Radio Show Podcast.  Jean is the owner and founder of TranquilPET, Dog Swimming & Holistic Pet Care, a wellness center for your dog's body, mind, and spirit.  Calling all Dog and Cat lovers.  This is a podcast for you.
TranquilPET.

Let's start with her mission:  "Jean loves her clients – a connection her dog clients are very aware of. This connection assists her in warm water swimming dogs of all ages, but especially your elderly, arthritic, overweight pre/post-surgical dogs, as well as teaching fearful dogs to get over their fear of swimming and many of her clients just swim for fun and fitness!"
Jean does not take the place of your vet.  She views her role, holistically, to make you more "in tune" with your pet and your pet's needs. Her goal is to help you understand your pet and to help you help your pet extend the quality of their life, especially for senior dogs.  Please note:  Jean will not "touch" a senior dog or a dog with a medical issue without your vet's written vet approval.  (no exceptions)
A Recap of Jean's Services.
Warm water swimming may be perfect for: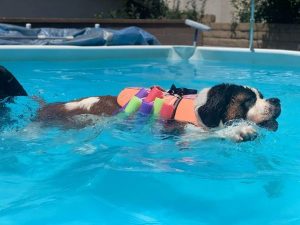 Loosening up tight muscles. Increasing circulation, endurance, flexibility, range of motion, balance and coordination, body awareness, and muscle strength. Along with. Decreasing swelling. As well as relaxing and therapeutic to the soul while building confidence and having fun.
Why Animal Massage?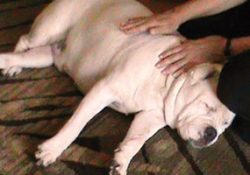 Why do you go for a massage?  Stress? Anxiety? Medical? Relaxation? Just to Pamper Yourself?   Animals benefit from massage in the same you do.  Watching an animal move and the way they respond to touch provides valuable information as to what area(s) of their body may need special attention. Your pet will always "tell" you what they like and don't like, what hurts and what feels good.
The benefits of massage for animals mirror the benefits we receive: It improves, circulation, digestion, preparation, relaxation, and sleep.  Other benefits include increased range of motion and flexibility while increasing the amount of nutrients to the muscles. Just like the benefits we get from a massage, there is a reduction of pain, muscle knots, and spams. Lastly, massage helps eliminate waste and toxins from the body and provides general physical and psychological well-being.
What is Reiki and why is it ideal for animals?
"Reiki" (ray-key) is a simple, yet powerful relaxation and stress management technique. It is Japanese in origin, founded in the early 1900s by Mikao Usui. "Rei" meaning spirit and "ki" means energy, translated as "universal life energy." Since all things are made up of energy, all things consist of Reiki.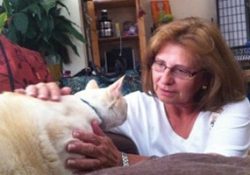 Reiki is safe, gentle, stress-free. There need be no physical contact and Reiki treats the entire person and/or animal, including physical, mental, emotional, spiritual levels simultaneously.  Due to its non-invasive, painless nature, Reiki is a natural healing method for all, especially our pets, as animals are extremely sensitive to energy. Some animals, like this cat, wanted hands-on. Jean knows how to read what the animal wants.
Pet First Aid & CPR Workshop.
According to the American Animal Hospital Association (AAHA), 25% more pets could be saved if just one first aid technique was applied. So, knowing what to do in a pet emergency is all-important.  Would you know what to do in an emergency?  Unfortunately, most people panic at the onset of a pet emergency or sudden injury.   This workshop is designed to replace your panic with knowledge and enhance your pet training & handling skills
The importance of Senior Pet Care.
Your relationship with your pet is special and their need for your special care increases during their senior years.
Topics to be discussed:
Have you noticed possible behavior changes?
Do you see increased/decreased reactions to sounds?
Do you know common signs of cancer?
Do you recognize the signs of arthritis?
What is my pet's "Quality of Life?
The most painful to you: "How will I know when to make the decision to let my pet go?"
Anticipatory Grief
 Learn to Give Your Dog a Monthly In-Home Check-Up.
Things to think about. Do you know:
What is your pet's resting heart rate?  How to take it?
What is your pet's breathing rate?  How to take it?
What does it mean if your pet's left pupil is larger than your pet's right pupil?
What does it mean if your pet's breath smells sweet?
What does it mean if your pet's ears smell like dirty socks?
What color are your pet's gums?  Do you know what it means if their gums are pink? white?  grey?
In closing.
Jean's website is full of much more information that can help you learn how to love and care for your pet! We talked not only about her services but the importance and value of living with your pet. While ideally, Jean meets with her clients in person, she is also able to meet you on zoom calls as well.  Like me, Jean is a storyteller, and her experiences are rich with stories not only about dogs and cats, but also horses.
Thank you, Jean!  I learned so much from you.
---
Conversations + Connections = Community
Making the world a better place.  One Story at a time.

What's Your Story?  I want to share it.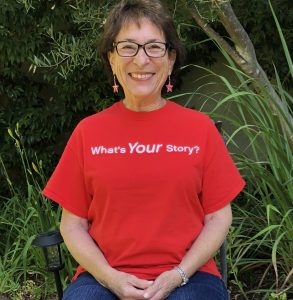 Marsha@borntotalkradioshow.com
Facebook    Twitter  Instagram  LinkedIn