Podcast: Play in new window | Download
Subscribe: RSS
Thank you Jennifer D. James for being a guest on my Born To Talk Radio Show Podcast.
Jennifer.
Jennifer D. James is an award-winning author and breast cancer survivor.  She is a trained breast cancer mentor through the American Cancer Society's Reach to Recovery Program. But that's not all, she is a certified meditation teacher specializing in patient healing and pain management and a certified Maurer Foundation breast health educator.
Jennifer was recently invited to showcase some of her artwork during the Academy of Oncology Nurse and Patient Navigators' convention in November.  She will continue to share her story with the oncology world and expand her own medical knowledge and network.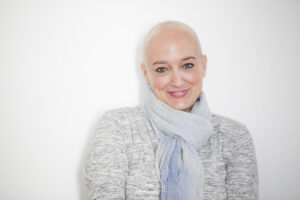 Jennifer will take us on her personal journey. We will be talking about how she discovered she had breast cancer and her diagnosis.  While there is a smile on her face during her treatment, it's not easy to go through the process. However, she brings hope to all that listens.
Helpful Information.
Here are four ways to diminish cancer's power:
Open the cancer conversation and talk about it. It's the only way to shift the narrative. The topic may be uncomfortable, but the more conversations we have, the more comfortable they will become.
If you have been diagnosed with cancer, and if you feel comfortable, please share your experience with others. Your story matters. Blog. Write. Use social media. Create art. It doesn't matter which outlet you use to express yourself, it will help others who haven't been diagnosed understand what the cancer journey is like.
Prevention counts. The sooner we catch cancer, the sooner we automatically remove its power. Please talk to your doctor and medical teams about scheduling a routine mammogram or breast screening. Ask for clinical breast exams performed by your primary doctor or gynecologist. Perform monthly self-check breast exams to become familiar with your breast tissue, so you can contact your doctor right away if something feels or looks suspicious.
More in-depth conversations between caregivers and their loved ones diagnosed with cancer are so important. Being honest and open helps the caregiver provide better support for their loved one, which is what they ultimately want to do. Although it's not always easy, it'll improve the experience for both people involved. 
Rescources.
The Reach To Recovery program is through the American Cancer Society and is easy to access. It is a program designed to help people cope with breast cancer by connecting them with breast cancer survivors. If you have been diagnosed with breast cancer and are interested, please follow the link and create a user profile: https://www.cancer.org/support-programs-and-services/reach-to-recovery.html. Jennifer is a mentor through that program.
Jennifer's Takeaways.
Jennifer is a five-year breast cancer survivor. She speaks openly about her breast cancer journey to gain valuable insight.  Along the way, she has learned many lessons. Some have been unexpected gifts that were revealed along the way through 74 medical appointments.  They included chemotherapy, surgery, and radiation. Jennifer states, "A life-threatening disease allowed me to discover why I was born in the first place."
With a passion for helping others and a mission to shift the narrative around cancer to make it less taboo, our dialogue is one of the many ways we can begin to create positive global change to better help those who have been diagnosed, along with their caregivers.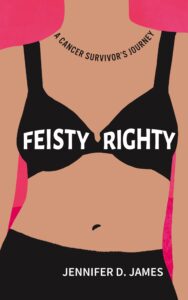 Be inspired by the "art of living" vs. the "act of living" and feel empowered to live fearlessly as we discuss some of the important topics covered in her debut memoir, Feisty Righty: A Cancer Survivor's Journey.
In Closing.
As October comes to the end, it's only fitting that we talk about breast cancer, during Breast Cancer Awareness Month.
Tune in to hear her inspiring story!
Conversations + Connections = Community
Making the world a better place.  One Story at a time.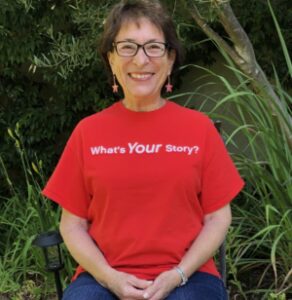 What's Your Story? I want to share it!
 Marsha@borntotalkradioshow.com