Podcast: Play in new window | Download
Subscribe: RSS
Thank you, John Mews founder of Mewsic Moves for joining me on the Blog Talk Radio Show Podcast. What became very clear at the beginning of the show is why John loves being a Music and Neurologic Therapist. For many of us, including me, I didn't know what a Music Therapist did. You will after listening to the show.
John's Story.
What happens to some of us at an early age, without even realizing it, becomes pivotal in our life choices.
At age 4, John knew he wanted to be a doctor.  After being bedridden for a month recuperating from a surgical procedure, the care and kindness he was shown by the physicians and nurses left an imprint that never left him.
However, growing up in a musical family, the expectation was, he was going to be a musician. How he took the yearning to be a doctor and combined it with his love of music is a great story. Thanks to an astute college faculty advisor, he was presented with a book of "Case Studies in Music Therapy."  As a result, he began his role of combining medicine and music from that point forward.
What happened next?
Since 2004, John has been practicing Music Therapy.  In 2013, he moved from Vancouver, Canada to the states.  John's Mewsic Moves mission is: "Transforming lives through music therapy."
Music therapy is widely prescribed in many cases. From pain management and anxiety relief to helping reduce the impacts of trauma and helping recovery.  Music therapy is seen as an effective alternative mediation for many conditions. As an intervention strategy, music therapy works towards multiple goals. They include cultivating social skills, regulating emotions, and diffusing toxic behaviors.
John shares a touching story about a young boy with Autism. He meets his clients "where they are" and works on helping them regulate their behavior.
Neurologic Music Therapy is defined as the therapeutic application of music to cognitive, sensory, and motor dysfunctions that come from the human nervous system. He mentioned after Gabby Giffords was shot in the head in 2011, and unable to speak, her neurologic music therapy over time, restored her ability to speak.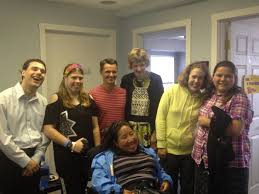 Music Therapy Social Skills Program for adults with developmental disabilities.
Glee Choir is a collaborative 12-week music therapy program for adults with special needs to share their love for music in a fun and safe environment, while also working on a variety of goals such as building self-esteem, expressing emotions, social skills, making friends and social integration to name a few. Check out this YouTube video!
Here are some excellent resources for you.
John's blog: Music Therapy is Not Music Lessons
American Music Therapy Association
"The mission of the American Music Therapy Association is to advance public awareness of the benefits of music therapy and increase access to quality music therapy services in a rapidly changing world." According to the American Music Therapy Association, "Music Therapy is the clinical and evidence-based use of music interventions to accomplish individualized goals within a therapeutic relationship by a credentialed professional who has completed an approved music therapy program."
Neurologic Music Therapy Academy
"The Academy for Neurologic Music Therapy is a 501 (c) 3 organization mission is to disseminate, advance, and protect the practice of NMT worldwide. To this end, the Academy disseminates information about the evidence-based practice of NMT and provides opportunities for continuing education in NMT that ensure the best practice in the field."
---
Above all, John's website is loaded with valuable information. From Autism to Alzheimer's, each condition has a musical component that can be helped with a qualified therapist like John Mews.
Thank you for sharing your world of  Mewsic with us!
---
What's Your Story?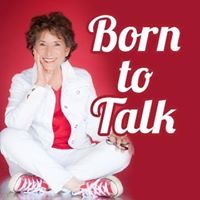 Conversations + Connections = Community
Do you have a story to share?  You can contact me directly at
Marsha @BornToTalkRadioShow.com