Join me and my guest, celebrity interviewer and Podcast Host, Kara Mayer Robinson on Monday, August 26th from 1-2 PT on the Born To Talk Radio Show Podcast.
Meet Kara.
Kara is a wife and mother of 3. She is an esteemed journalist. Her work can be found in The New York Times, The Hollywood Reporter, The Wall Street Journal, Emmy, and Travel + Leisure, just to name a few. She is also Columbia University-trained psychotherapist.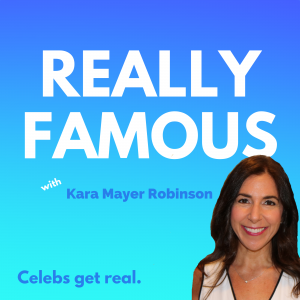 Kara is multi-talented. She is the Host and Producer of her Podcast show Really Famous.
Everyone has a story.
Over the past 2 years, Kara has interviewed A-listers. Check out her interviews with Chazz Palminteri, Joe Mantegna, Cesar Millan, Spike Lee, and so many more. Her interviews are intimate, surprising, fun, authentic and revealing. You can see why celebrities adore her. Listeners can't get enough. Who was her first guest?
She is my Really Famous Guest.
How has she built her celebrity-focused YouTube Channel? Real Conversations with Spectacular People.
What must it be like to sit and have a chat with someone you admire but thought it might be impossible? Nothing is impossible for Kara. When you watch any of her Podcasts or YouTube posts, you will see why she is magical. It's about being comfortable and recognizing that Really Famous people are still people. For example, hear how she uses her experiences and her curiosity to bring her stories alive.
Are you ready for some inside stories?
---
What's Your Story? Conversations + Connections = Community