Podcast: Play in new window | Download
Subscribe: RSS
Thank you Katie Rampen for joining me once again on The Born To Talk Radio Show Podcast.
Katie & Breast Cancer.

While many of us know that October is Breast Cancer Awarenes Month, Katie prefers to refer to it as Breast Health Awareness Month.  Did you know that breast cancer affects 1 in 8 women?  It is the most common cancer diagnosed among women in the U.S.  Early detection is critical.
Here are Katie's 7 Simple Steps to keep your healthy and cancer free:
Drink half your body weight in ounces of filtered, (not bottled in plastic) water daily.
Eat whole, unprocessed, organic food as much as possible.
Get plenty of good quality sleep.
Exercise/move your body daily, even if it's just walking.
Keep your home clean, be aware of dust and mold as well as your cleaning products.
Nourish your mind: reduce stress and increase happiness by practicing mindfulness
Take care of your oral health and your skin.
Katie will be elorabotating more about these steps. Her website is chocked full of information including her online courses and working with individuals
Katie's Takeways.
"If there is one thing I've learned from my two breast cancer journeys, it's that what we don't know can hurt us; but I've also learned that we can be enlightened, empowered and encouraged to not only heal disease but also prevent it."
"I want to empower you to take care of your health and to advocate for the right treatment(s). Just as you are unique so is your healing journey. Listening to and trusting your gut (also known as your second brain) is crucial so that you will not just survive, you will thrive!"
"October is breast cancer awareness month. I think we are all well aware of breast cancer but not of breast health. This "Breastober," I invite you to learn to take care of your most precious resource-your health."
In closing.
Katie will also be sharing her 3 Pillars of Health Enlightment, Empowerment & Encouragement. Or if you or someone you know is facing breast cancer, Katie's membership might be the formula for you or your loved one.  You don't have to face this alone.
Katie, you are an inspiration! 
Thank you for sharing your personal experiences and how you are helping others!
***********************
Conversations + Connections = Community
Making the world a better place.  One Story at a time.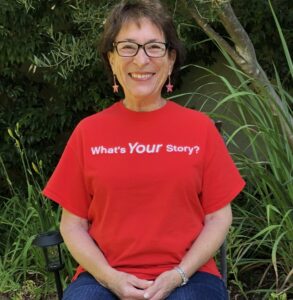 What's Your Story? I want to share it!
 Marsha@borntotalkradioshow.com