Podcast: Play in new window | Download
Subscribe: RSS
Thank you, Lisa Gaytan Harper for joining me on the Born To Talk Radio Show Podcast.
Lisa is the Director of Latino Services for Alzheimer's Los Angeles and a passionate advocate dedicated to the Latino community.  Lisa is dedicated to empowering the Latino community with valuable information and resources to make informed decisions.   In this role, she leverages her extensive knowledge and experience to bridge gaps in knowledge and care within the community.
Drawing on over a decade of real-life community experience, Lisa understands the needs, particularly within the Latino community, transitions of care, and end-of-life care and its associated grief. A steady believer in the power of information, Lisa understands that well-informed communities thrive.
Did you know?
Over 177,000 people in LA County are living with dementia. By 2040, the number of people with Alzheimer's or another dementia and the cost of care in LA County will more than double.
Alzheimer's LA helps families manage life's daily challenges with Alzheimer's or another dementia. They build a community that embraces those who need support and care when the future seems hopeless.
Alzheimer's Los Angeles is a tax-exempt, 501(c)(3) nonprofit, donor-supported organization. Programs and services are made possible through contributions from individuals, corporations and foundations. You may make a donation by following this link.
Lisa's Takeaways.
"Every individual deserves compassionate and respectful care that aligns with their beliefs and values. Understanding the prevalence and impact of dementia in specific communities, such as Latino communities, is crucial for providing culturally appropriate care that meets their unique needs."
"Cultural competence in healthcare goes beyond language barriers and involves recognizing the significance of family involvement in healthcare decisions and providing care that aligns with their health beliefs. Latino families appreciate healthcare professionals who understand and respect their cultural beliefs, values, and practices. By working together to provide quality healthcare services that respect and honor cultural diversity, we can ensure that every member of our community receives the care they truly deserve."
Here is the Helpline, for any questions you might have.
In Closing.
With a persistent commitment to improving access to quality care for all, Lisa's work has significantly impacted many families. She has witnessed how individuals come alive and improve their quality of life when equipped with the knowledge they need. Lisa also mentioned 3 componets…"What's good for the heart is good for the brain and good for the soul."
Tune in to this informative show.
***********************
Conversations + Connections = Community
Making the world a better place.  One Story at a time.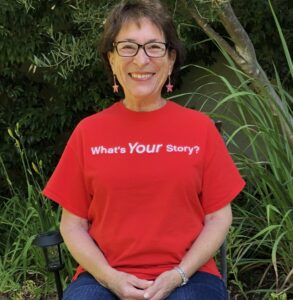 What's Your Story? I want to share it!
 Marsha@borntotalkradioshow.com