Podcast: Play in new window | Download
I'm thrilled to have Katrina-Jane join me on my Born To Talk Radio Show, for a special edition on Thursday, March 22nd beginning at 11:00 PT for our 1 hour show. She is visiting from Australia and I have the good fortune of having her as my guest.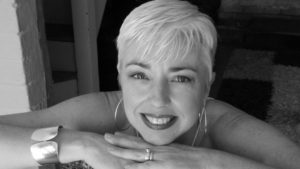 Katrina-Jane is a down to earth, 'out of the box' clairvoyant medium, multiple times award winning author, inspirational speaker, teacher and thought leader – who is dedicated to guiding people on your soul journey. Her specialities include death and dying, clairvoyant readings, support for sensitive children and empowering women to find their purpose and live their dreams.
Katrina-Jane is way more than your average clairvoyant! She doesn't wear what you think she would. She doesn't use gimmicks or crystal balls. She is down to earth, never takes herself too seriously and has a wicked sense of humor. She is 100% honest, upfront and is deeply compassionate. She also loves to throw around the odd F-Bomb.
Katrina-Jane has a passion for helping people to deal with death, dying and grief – both nationally and internationally. Through her work she deals with the passing of loved ones on a daily basis. Her aim is to help people get over the fear and awkwardness of speaking about death, whether this is through her books, speaking arrangements, writings or social media.
She has authored 4 books, having won an international book award for her inspiration biography 'Christian to Clairvoyant' and 3 international book awards for Where Did They Go. The latter explains to children in a simple but clear way what happens when we die. It takes away the mystique and fear that currently surrounds death and encourages people to talk. Where Did They Go has attracted significant attention recently, including an up and coming book signing tour throughout the USA.
Katrina-Jane has also appeared on radio, been featured in the local press on several occasions and often guest writes for a variety of online blogs and new age publications. She undertakes regular talks for fundraisers such as Westpac Rescue Helicopter High Tea central coast and speaks for a variety of other charity events, psychic fairs and corporate functions.
In her spare time (yes she does have some) Katrina-Jane has a passion for pole dancing and loves to read a variety of different books, such as murder mysteries, biographies and romance. If it gets her into the book within the first couple of chapters – she is in! She is a touch OCD, always tidying things and going through things, throwing things out and donating to charity. She is also a tad addicted to Pinterest, always looking at things she doesn't have time to make.
Katrina-Jane currently lives in Newcastle, NSW Australia with her soul mate and husband Chris and her gorgeous dog Master Monty.
Tell your friends you won't want to miss this!
Remember you can follow me on my Born To Talk Radio Show Facebook page and twitter @Born2Talk
Born To Talk
Conversations + Connections = Community
What's Your Story?